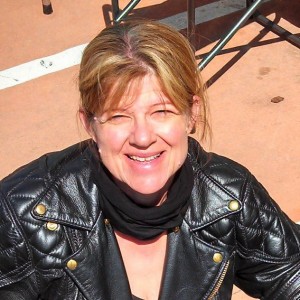 Joan Krenning aka Lady Road Dog is the CEO of Design Wraps Brands. 15,000 miles ago, on February 1st, 2013, she and her Street Glide set out on a 36 month ride through the United States on a journey of courage, inspiration and hope. I caught up with her in Chickasaw, Oklahoma.
Read the first post about her Freedom Ride here.
Podcast: Play in new window | Download
. [23:09]
Watch interview on You Tube. [23:09]
Freedom Ride Interview Notes
Why she's on a motorcycle:
Joan started Design Wraps Brands 23 years ago because she loved riding. For the next 23 years, she drove around in a car selling products. She'd decided to change vehicles this year, and instead of driving around in her car selling her head wraps to the dealers in her car during prime motorcycle season, she'd do it on a [Harley-Davidson] Street Glide .
Why a Freedom Ride:
Joan's riding to:
Promote the purchase of American made products
Promote the Bill of Rights
Inspire hope in Americans
Her motorcycle: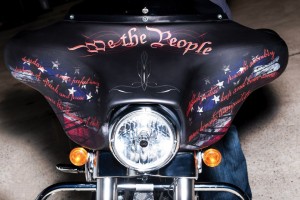 2013 Street Glide, Denim Black, wrapped in graphics from the Bill of Rights, Declaration of Independence, US Flags.
People are attracted by her "edgy" black Street Glide wrapped in a patriotic theme and the tall, blonde, 58-year-old woman dressed in black who's riding it.
Whether the ride to date has met her expectations
Everything that she planned hasn't happened, but everything that's happened has been better than she could have planned. It's becoming an incredible journey.
Goal: 200, 000 miles in 3 years, walking through the doors of every licensed Harley dealer in the lower 48 States. She's working primarily with HD dealers because of their interest in her products and support over the years.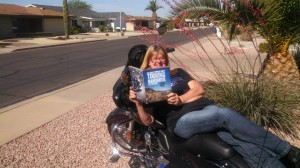 "We are to love our neighbors in spite of how they believe instead of because of how they believe. You can't look to your neighbor and say he believes wrong, just because it's differently. That's why we have the Bill of Rights, so that everyone has the right to believe how they choose. "
Biggest challenges as a rider
Adjusting to modification (new front wheel) on her bike.
Learning who to trust to work on her bike.
How she physically manages the ride:
Eating right, staying hydrated.
Getting adequate rest.
Working out 3-4 days/week.
Enjoying the ride; took a couple of months to learn to relax and enjoy the ride.
How she stays energized:
Lot of good friends.
Strong faith in God.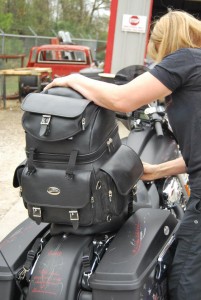 Logistical challenges:
Time management has been her biggest overall challenge because so many people engage her in conversation.
Taking motels every night is a financial challenge. A lot of women have started opening their homes to her.  Anyone interested in offering a night's lodging can contact Joan at joan@ladyroaddog.com.
Luggage space – 1 pair of jeans, 1 pair of yoga paints, 1 pair of leather pants.  rain gear, heated gear, laptop & accessories, samples for company.
Joan says she wakes up excited every day, wondering who she's going to meet. She views challenges as a plus, an opportunity for growth, because she knows there's always something better on the other side.
About feeling lonely
It's only happened a couple of times. It's exciting to be out on the open road by yourself.  She knows there are thousands of other women who are hitting the road on motorcycles– "We're spiritually connected to all of those other women."
Challenges to maintaining balance:
Working out is her biggest challenge. It takes a long time to pack up stuff in the morning, which cuts into workout time.
Blogging.  Goal is to write a post every day.
Joan is touching lives and being touched by others in return.  She's energized at the end of the day.
Advice for anyone who wants to follow their heart on their own journey
"Jump. I don't won't to wake up at 70 and say I wish I had done that thing at 58.  Once you become inspired, there are a lot of people who love you that mean well, but can be negative. Don't let anyone stop you from following your dream.  Make a list of how it's going to work logistically and start working through it."
People have told her she started her ride too soon. When she first started she wasn't ready with everything. But as she went through the first four months, everything has worked itself out, plus she's met people who are a part of her ride, that she wouldn't have met or know, had she waited.
"You have to go with what works best for you."
What's next:
More, OK – Fundraiser for tornado victims
Denver, CO  – working on charity aspect of Freedom Ride
J&P Cycles Open House in Iowa
Salt Lake City, UT event
Seattle, WA
Oregon
Las Vegas, NV – Pool tournament
Sturgis, SD for bike week
Western MO to pick up Genevieve Schmitt and ride to Kananaskis, AB for Women's Event – Women Riding Into the Future
Back to MO to meet with Alaska Rogue Riders, riding with them to Milwaukee for Harley-Davidson 110th Anniversary.
Stay in touch with Joan and her Freedom Ride through her Lady Road Dog website or Lady Road Dog Facebook page.