Ed McGaa (Eagle Man) is a registered tribal member of the Oglala Sioux and was born on the Pine Ridge reservation. He received his Bachelor's degree from St. John's University and earned a law degree from the University of South Dakota. He has studied under Chief Eagle Feather and Chief Fool's Crow, both influential Sioux holy men. He is honored by the Sioux for having participated six times in the Sun Dance ceremony. He also served as a fighter pilot in the Marine Corps in Vietnam, flying 110 combat missions in F-4 Phantoms, receiving 8 air medals and 2 Crosses of Gallantry, and was recommended for a Distinguished Flying Cross. He's the author of at least ten books on Indian History and spirituality, including Crazy Horse and Chief Red Cloud, a history of the Sioux and its warriors, Nature's Way – Native wisdom for living in balance with the earth and Spirituality of America – Earth Saving Wisdom from the Indigenous. 
Listen Now:
Podcast: Play in new window | Download
In this episode you'll learn about:
Growing up on the Pine Ridge Reservation
Ed's happy and nurturing childhood
Moving off the reservation under war measures
How he avoided boarding school and what that meant
His dream of being a Marine pilot and how it came true
Why he left his law practice
His Sioux mentors and white role models
His passion for sharing his message and making sure the truth is heard
Ed was born on the Pine Ridge Reservation in South Dakota, the youngest of 13 children, a Teton Oglala Lakota. He had a good life, with lots of love, and lots of brothers and sisters. Dad was very caring, hard working, loyal, and provided well for the family. Mother, who was Catholic, got very political and well regarded in the community.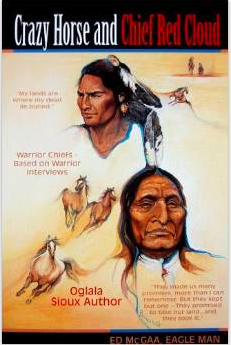 He went on to serve a distinguished career as a Marines pilot of an F-4 Phantom, graduate from Law School, but his heart was calling him elsewhere. Because of his success (100,000 copies of Mother Earth Spirituality) as an author, Ed left his law practice. It was important for Ed to get the facts out about Indian history. Academic Indians don't know it. He did Sundance six times. They weren't warriors; they don't go in the military. Somebody had to write it. He's since written at least ten books with two more on the way.
Tweetable (Click to Tweet)
"Guys were bailing out, getting in the airlines. Not this Indian! I was having a chance to be a real warrior."  Ed McGaa (Eagle Man)
"You can't criticize a warrior unless you have done what he has done." Ed McGaa (Eagle Man)
Resources and Books by Ed McGaa include:
Watch Now:
Did you enjoy this podcast?
Subscribe to receive new issues in your inbox
You'll also receive Show Notes, the Stop Dreaming Start Doing Roadmap and a bonus offer!
Like what you read?
Subscribe for Updates
Each week I send out a mix of motorcycle resources, advice, and inspiration. Your email information is never shared.
Did you enjoy this article?
Subscribe to receive our weekly newsletter!
You'll also receive a copy of 50 Moto Gadgets and Gizmos!