by Liz Jansen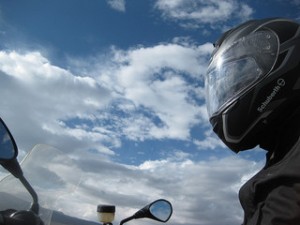 Last week I was dismayed to learn about crashes from two well-known women riders. I was also grateful that they weren't more seriously injured. Both ascribe to an ATGATT philosophy and it saved their hides. Literally. My injuries were also minimized by high quality, proper fitting gear. We take all reasonable precautions when riding, but crashes happen.
Read and learn from their stories. I've also included posts to help keep you safe on the road.
---
Alicia Elfving aka The MotoLady
Crashing my Motorcycle and the Value of Gear
"Yesterday at about 11am I left Costa Mesa base camp heading toward LA on the 55 North freeway. I exited right at the 73N/405N freeway onramp interchange, which is a really long two lane sweeping left turn. At about 50 mph, I hit what I thought was a little bump in the roadway and got a speed wobble, which almost immediately turned into a violent tank slapper and I hit the pavement. I didn't highside- I had a very violent lowside (sort of) where the bike hit the ground rather hard (and with the quickness).
We then slid some 75 or so feet to a stop after sliding into the median (in what seemed like slow-mo) and bouncing off. The bike and I ground against the road for a moment together when I lost sight of it, rolling sideways as I skid feet first and then rotated around to point across the lanes."
---
GearChic aka Joanne Donn
"Story to come. Just know that the combination of leather and body armor saved the entire right side of my body. All I walked away with was a fun collection of bruises in varying shades of green." The photos (not gory) tell all.
---
Motorcycle.com
Warm-Weather Jackets And Pants Buyers Guide
"It's June and the temperatures are now starting to hot up. That can only mean one thing: Summer's here and riding season is in full swing. For some, riding in hot weather means shedding the protective gear in order to stay cool. You don't need us to remind you what a bad idea this is, as one of our favorite adages when it comes to riding in hot climes is "I'd rather sweat than bleed." For this buyer's guide, we've put together 10 jackets and pants that'll both keep you cool on a hot ride and also protect your hide should you have the unfortunate fate of falling down. The list is organized in ascending order based on price."
---
RoadRUNNER
Riding in a Proper State of Mind; A Mental Checklist for Riders
"It's been observed that operating a motorcycle is 90-percent mental and only 10-percent physical. In addition, scientists tell us that we are not consciously aware of most of what the mind is doing in everyday life. Do you consciously think about breathing or making your heart beat or which foot operates your bike's gear shift? Like an iceberg, some 90-percent of the brain's activity is taking place below the conscious surface. This may fly in the face of some historic perceptions of motorcyclists as brawny he-men muscling heavyweight cruiser-type bikes down the road."
---
MC Garage
How to Set Up and Adjust Your Controls
"Every bike should be fitted to its rider. Even if your motorcycle has no apparent allowances, you can still make some basic adjustments that will improve your riding comfort and the ease with which you manage your bike's controls. We'll show you how."
---
photo credit: Self Portrait via photopin (license)
---
Did you enjoy this article?
Subscribe to receive our weekly newsletter!
You'll also receive a copy of 50 Moto Gadgets and Gizmos!