by Liz Jansen
When we last spoke with Tammy in January 2014, she was leaving her job in Newfoundland, her house was sold and she had a contract for work in Guatemala's Lake Atitlan. We're checking in with her, six months later.  Scroll to the bottom to watch her interview. There's also a link for her first one.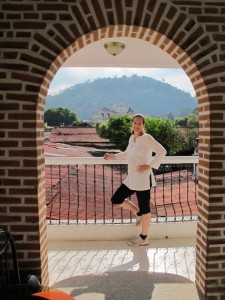 Listen here: 
Podcast: Play in new window | Download
Last minute surprises
Two days before leaving, the house sale fell through. She'd already booked her flight so she went anyways.
Upon arrival, the contract that she'd been there to do, got postponed. They kept putting it off, and it never did come around. So she has been scrambling trying to find other work.
Looking back at the early days
In spite of everything, she's really glad to be there and can't imagine living full time back in Canada. It's like she was meant to live there.
Her biggest challenge upon arrival was dealing with the bugs. She'd never been around bugs and a week into the trip, there was a scorpion in the bathroom, so she had to learn to deal with it. Otherwise, things have been really easy.
The most pleasant surprise was that there wasn't that much rain in the rainy season, but it's all relative, because she's come from Newfoundland, where it rains a lot.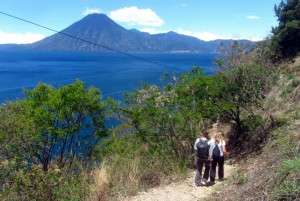 Life in Guatemala
Four days into her trip she met someone who she's been dating ever since. She's been doing a lot of hiking and kayaking, has explored local Mayan ruins and been to Tikal.
She's living in a town called Jaibalito which is the poorest village in Guatemala, based on people's income.
She has mountains behind her house and a volcano and lake in front. She's surrounded by banana trees, macadamia trees and jungle. The house is a frame structure over an adobe 1st floor. You can see through the cracks in the house, there's no hot running water in the sink, you need to boil water, even though it's from the springs in the mountains. The shower has an electric heater around the showerhead, (they call it a suicide shower) but they have hot water for their shower.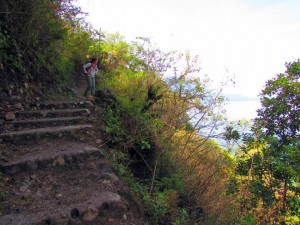 What she loves about life in Guatemala
You're living so close to the earth and nature. Everything is so simple. The food she eats is grown locally. Everyone is very happy in a very simple life. And the weather is perfect because they're up in the highlands.
What's next for Tammy
She has a few irons in the fire as far as work goes. Once she has a more steady income, she plans to housesit all over the country. Once her house sells, she'll get a little 200cc motorcycle to explore Guatemala—and then she'll head into South America.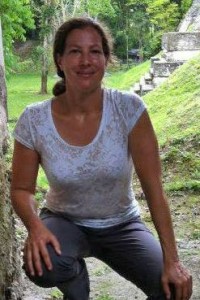 Summary
All the things that could have gone wrong, went wrong. Money doesn't buy you happiness. Happiness comes from in you. Her sense of freedom makes her happy and she feels very free here. Her living costs are less than $300/month and she's "happy as a clam." Travel and accommodation are inexpensive so you can go very far with a limited amount of money in that country.
She also has a number of good friends there. No one here will never let you go hungry or without a place to sleep. Everyone volunteers within the community and helps those in need.
Tammy loves her new world and wouldn't have it any other way.

Note: Ten minutes after Tammy and I finished this interview, she received notice that she'd been accepted for a 2-month work contract!
Here's her first interview: Raising the Ceiling.