by Liz Jansen
Tammy Perry is an eLearning Specialist working with the Memorial University (MUN) Medical School, Professional Development Department. She works with a team to build eLearning programs for practicing health professionals all over the country and around the world. www.MDcme.ca. But she's leaving that. In a week, she'll move to Guatemala, and fulfill a dream.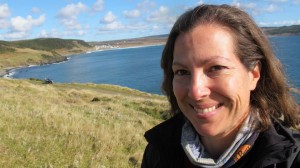 Raising the Ceiling
Download the MP3 audio by right-clicking on the player.
Podcast: Play in new window | Download
Tammy's three year plan
Tammy was working according to a carefully thought out three-year plan: take a year off beginning in September 2014, take a long motorcycle trip and see the world. She was planning to get rid of everything, and live with only her backpack and motorcycle.
In 2009 she went to Guatemala with CIDA (Canadian International Development Agency) through her office at the University Medical School. There she taught eLearning techniques to Nurses, who were part of a program to bring medical training to Rural Nicaragua and Guatemala. She fell in love with Guatemala, and envisioned living there in the hills, in a peaceful Mayan Village.
Returning to her job in Newfoundland, she resumed working on her original plan. This fall, preparing to leave her job, she advised her boss she'd be leaving in September 2014. At the same time, two long-time friends, moved to the hills around Guatemala's Lake Atitlan to run an eLearning project, start a fair-trade organization and training center for local Mayans. They invited her to join them but not being part of her plan, she declined but encouraged them to talk with her next September.
Spirit had other plans. The friends were persistent and offered to pay her flight, lodging and food for six months if she'd help them with the projects.
The very next day, her tearful boss called a staff meeting to tell us that there was bad news. Our department didn't make it into the strategic plan for next year, but she was doing everything she could to keep the department going.
Tammy decided at that moment to go to Guatemala.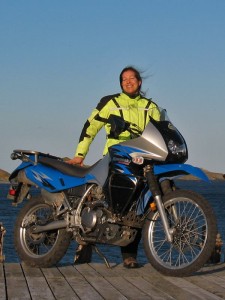 Differences between Newfoundland and Guatemala

It's far away, a very different climate and a very different sense of security. In Newfoundland, no one locks their doors and you don't worry about coups, gangs coming down from the hills and shooting people. Guatemala is less secure.
Doubt has been at the forefront even though she's sure she's making the right decision. "You're uncomfortable yet excited because you're going into unknown territory." It's keeping her on her toes, making sure she's taken care of all the details before she leaves.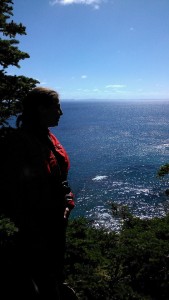 How do you push past your comfort zone?
Everybody sets his or her ceiling; their own upper limit. They decide what they can and cannot do.
A few years ago, she didn't think she could go on a long motorcycle trip. She'd created barriers out of work, family, children, a motorcycle – she put it off.
Her dad had always dreamt of taking a long motorcycle trip they were going to do together. He passed aw realized there was no reason she couldn't do it ay at age 50 and wasn't able to realize his dream. Around his birthday, (Dec. 20), Tammy realized there was no reason she couldn't do it decided to ride her bike across the country. She made arrangements with work and family and unbelievable things began to fall into place for a month long motorcycle trip across Canada from Newfoundland to British Columbia.
When the opportunity came to go to Guatemala, she asked why she was questioning herself when everything was laying itself out perfectly for her.  She's raised her own ceiling.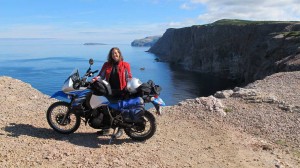 What's she expecting in Guatemala
When she was there before, she began researching and wanted to reach Lake Atitlan, considered the most beautiful lake in the world. Coincidentally, her friends have set up shop is in a tiny community of 800 people in the hills around Lake Atitlan, accessible only by foot or boat. Living conditions are very basic. Tammy wants to learn more about living minimally and what makes them so happy. And oh by the way, she has access to a dirt bike while she's there.
Reaction of friends and family
Responses have been generally positive. Those close to her are concerned for her safety and completely supportive.
Biggest challenge in this life change
Adjusting to a completely different lifestyle. "My motorcycle has broken down numerous times in Newfoundland and there's always someone there to help in 20 minutes. You can knock on anyone's door and they'll invite you in."
"Guatemala is different. The local population is friendly and they'll also invite you in. But you have to learn to take on a whole new sense of where you are and who's around you at all times."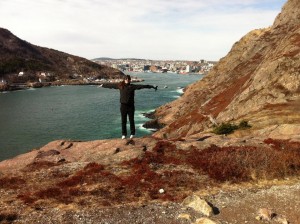 Wising you the very best as you live your dream Tammy!