In this podcast you will learn: How a 52-year-old woman with no riding experience decided to ride to Alaska with her husband, each on their own motorcycle. While she learned how to ride, the journey was more a lesson in courage, rediscovering the passion and finding out who she was.
Podcast: Play in new window | Download
The Mom Who Took Off on Her Motorcycle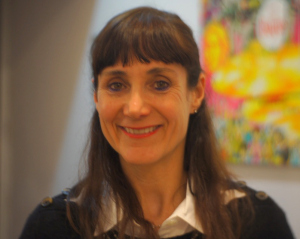 Diana explains what prompted her to take off in mid-life. As a mother of four children, two step-children and an unofficially adopted daughter from Ethiopia, she found herself at a crossroads in her life as they were all leaving home. She was looking for something new and dramatic for herself and wasn't sure what to do.
The Universe sent signs. Standing in the parking lot of Starbucks, she noticed a woman on her motorcycle. Intrigued, she walked over to speak with her and learned she was off on a solo trip to Alaska. Crossing the street a month later, she saw the same woman, now returning from her trip. Right then and there she told her husband, a rider, that she was going to ride a motorcycle to Alaska.
A new rider and her husband set out to pursue her dream. Diana had no idea what she was getting into. In spite of objections from friends, once she decided to go, there was no stopping her. She had to prove them wrong.
How she found the courage. She believes that fear is like walking through a burning room. That's what she did and she found her braver self on the other side of that fire.
Learn how she dealt with stress. Diana was a new rider, alone with her husband for an extended period after raising their children, new to camping and setting off on the adventure of a lifetime. She dealt with the feeling of being overwhelmed by moving the wheels, one turn at a time.
Listen as she describes her motto: Life doesn't come to you. You make it happen. Make your dreams happen.
Her favorite experience might surprise you. Listen as she describes it.
Her hardest experience may also surprise you. Hint: It had to do with tears of joy.
Learn about her perspective as a woman rider. Diana was surprised that given the increase of women in motorcycling, she still received surprised glances when people realized she was a woman under the helmet and gear.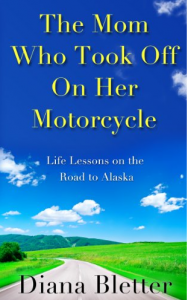 Listen as she describes what she accomplished with the trip. It spiked her courage. She now knows that if she can sit on a motorcycle for fifty-one days, she can stand on her own two feet.
Long distance riding as a meditation. Diana describes her experience as a "moving meditation." It was challenging physically, mentally, spiritually and emotionally. She felt a very real awareness of present moment; that this moment is all there is.
Listen to Diana's advice for anyone contemplating something similar, whether it's on a motorcycle or some other adventure. She talks about her values and the message she distills through her stories and the inspiration she hopes others take from her experience.
@trilliumliz @dianabletter nice podcast, looking forward to reading the book. bit.ly/12rAisI

— Brenda McKeown (@BrendaMcKeown) June 5, 2013
Did you enjoy this podcast?
Subscribe to receive new issues in your inbox
You'll also receive Show Notes, the Stop Dreaming Start Doing Roadmap and a bonus offer!
Like what you read?
Subscribe for Updates
Each week I send out a mix of motorcycle resources, advice, and inspiration. Your email information is never shared.
Did you enjoy this article?
Subscribe to receive our weekly newsletter!
You'll also receive a copy of 50 Moto Gadgets and Gizmos!