35 Riders on Serendipity vs. Detailed Motorcycle Travel Planning
We travel by motorcycle because we love it and it's the best way to experience anything!  IMHO. Yet within our community, riders have many different interests and perspectives when it comes to motorcycle touring.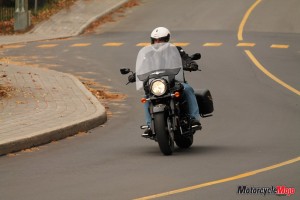 How detailed do you get in your planning? Do you reserve lodging ahead of time?
Here's how these Motorcycle Mojo Magazine's FaceBook fans, plan their travel.
35 riders on serendipity vs. detailed motorcycle travel planning
Don N.  Ever since I made a reservation at a hotel and got hung up in the Blue Ridge twisties and rode till 2:00 a.m. to get there, I no longer make reservations.
Pam B. Liz, is this how you find out who you want to ride with? I'm with the spontaneous people. Never had a problem so far and have had some nice surprises.
John T.  I find that unless you are going somewhere like Daytona, Sturgess or Laconia, the best part of travelling on the bike is finding places to stay on a whim. That way, you get to meet the most amazing people! Take a risk and live the life!
Tom M.  I plan things out. Don't wanna be caught in moose country wish no place to stay. Trip Advisor is your friend.
Jacques B.  play it by ear
Cindy G. I've traveled both ways. Love the "No Plan" trips best.
Dana B.  Nope. Take it as you go.
Donna R. Usually just take a chance. So far it's worked out, but we've ended up in a few sketchy places.
Norm B.  New C90. Nice. Point and go.
Susan D. Depends on the destination and my available time but usually a mix of both. You can get good deals booking ahead or checking with tourist information booths along the way.
John C.  Can't book too far ahead of time. Might get rain.
Helena K.  Yes I book every time we are going to Nakusp B.C. just in case there are a lot of tourists. Heard stories about people sleeping on the grass in parks because no rooms available in the area. Not going to happen to me!! Haha
Life is a journey.  Nakusp has excellent campgrounds!
William H.  Depends on the destination and purpose of the trip !
Kathy B.  I love planning the trip, google maps is my friend. I then will often get the AMA maps because they mark scenic roads. I then check for motels. It does not matter whether I am driving a car or ride the bike, I like to have a "plan" of where I am staying. Something from my childhood I think ! Since I often ride with other people. we have planning dinners for our big rides too! Great fun.
Life is a journey. Jip, the planning meetings can be great fun and it help build the expectation too.
Matthew I.  It can go either way. But sometimes and some places even when camping if you don't have a reservation you are outta luck. I like to keep it loose but my wife won't sleep on the ground in a gas station parking area. I would. So you gotta do what you gotta do.
Shorty J.  Where ever we end up at the day, is where we stay. Sometimes it's a hole in the wall place, but it's a place to lay ur head down !!!
T. Bert R.  repeat destinations if a rally – othwise just roaming
Karen G. I do book my lodging in advance, but I make sure I have the option to change or cancel my reservation.
Tim D.  I only reserve ahead for Sturgis, everything else I stop when I find a spot
Tony M.  Depends on the trip but I do book a room ahead
Bob E.  I agree with John. Most of my best memories on a motorcycle started with a general destination in mind and exploring roads and communities along the way. If you don't get too fussy, there will always be a place to lay your head and to find a good cup of coffee.
Robert B.  I'm kind of anal….gotta have a plan and reservations. However, sometimes they need to be revamped along the way. Especially if you run into some wild and crazy peeps along the way.
George M.  I like to plan ahead. One time i did not plan ahead and ended up at the Impala!!! was likely built in the 50's and that was the last time they spent any money on the place. Wouldn't take my boot off until I got into bed and put them on to go to the bathroom. Never again!!
John C.  Can't make a plan to stay in 100 miles if it might rain. You might not be able to make your reservation.
Matthew I.  I like to just throw caution to the wind as well and have been very fortunate most times. i have even been invited to a strangers house a few times, a party has ensued and had a marvelous time making some great connections along the way!
Mark H.  I fly by the seat of my pants. That's what going for a scoot is all about. Let the highway take you
Benson K.  Just wing it!
Noel H.  I only plan things out if I have to be somewhere on some sort of schedule. I've ridden the Three Flags Classic and that one you have to plan out. Usually if I'm just traveling I don't even have a destination in mind. Or if I do it usually is a fairly vague idea of one.
Mark-John H. but not booking could leave us sleeping… who knows where or driving much later than we wanted to
Noel H.  In 30 years of touring I have never really had any trouble finding someplace to stay. I do carry a tent etc. but if that isn't your thing then just start looking for a place to stop reasonably early, say 2 or 3 hours before dark – to what area we need to get to… but if it's raining or too nice – our plans might change.
Mark-John H.  any suggestions on how to locate a good place with only a drive by? I think I like that idea… except we've spent more on places to stay because we didn't do the research and find the good place at a good price.
Donnie R.  yes i call ahead, better than sleeping on your bike in the rain
Dora D.  I definitely plan a route and have my maps. I do not reserve lodging ahead of time. I have come to know when to stop and find a place to stay for the night.
How detailed do you get in your planning?