Stop 7 of Virtual Book Tour – 5 Truths and 5 Myths about Personal Power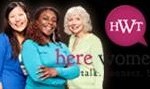 Today we're back at Here Women Talk Blogzine,  finding more life lessons taught by motorcycles.  Today we explore 5 Truths and 5 common myths about how we access our personal power.
Read the article here.
Reminder that the Book Sale for print books from this site and ebooks continues throughout the tour.
Keep your comments, tweets and likes coming in.  You'll be eligible for a delightful Basket of Gifts that will be useful on your personal Road.  See the contents and guidelines here.