Motorcycle Ambassadors of Peace
Motorcyclists are the ideal ambassadors of peace. It hadn't occurred to me until I attended a Horizons Unlimited travelers meeting last weekend, when over a hundred travelers from Canada, Australia, England, United States and the Netherlands converged in a farmer's field in Barrie Ontario. And the penny didn't drop until I was leaving.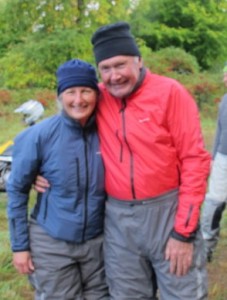 While I've traveled extensively around the world, my motorcycle travel has been confined to North America. I have no desire to head to South America or Africa or Asia – yet.
My research for Women, Motorcycles and the Road to Empowerment, led me to a number of pioneers for whom solo two-wheeled world travel is no stranger: Carla King, Lois Price and Doris Maron, Woody Woodward and Nancy Irwin. Many of their stories go back decades.
Over the past few months, I've been bumping into people on independent motorcycle treks with increasing frequency. Whether they're with a partner, on one bike or two, or traveling solo, something has compelled them to pack up and head out on an adventure, sometimes for years!
I get the thirst for adventure and I certainly understand the appeal of motorcycle travel. But I've been intrigued by what motivates them. What greater purpose is served by visiting third world countries and stopping in remote towns other than satisfying your own adventure gene.
It all became clear when I spoke with Australian Ken Duval, who with his wife Carol and a single motorcycle have been on the road for over three years. I asked him what keeps them going?
He described a conversation he'd had with an young school boy in Africa after he'd given a presentation to the class. The boy asked him "Why are you here?" To which Ken responded, "So we can learn about other parts of the world and how others live." That didn't satisfy the boy. "But you can see that on television!"
That's when it all became clear to me. Ken, Carol and others like them are ambassadors of goodness, spreading goodwill around the world. They're enriching those they meet with kindness, compassion and caring with them, and continuing on, further blessed by the kindness, compassion and caring of strangers.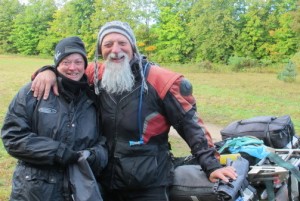 Nothing can replace the personal contact and the exchange of positive energy in building peaceful relationships. It's a far cry from the "reality" that's seen on television. The courage, confidence, tolerance and resilience that motorcyclists have developed through pushing past their own comfort zone makes them wonderful ambassadors.
We all have a role to serve in fulfilling our purpose, making positive change and leaving the world better than when we came into it. Whether it's doing our best at a nine to five job or setting out on a Round The World (RTW) adventure, the important thing is that we follow our heart. When each of us does our part, individually, we experience personal fulfillment. Collectively we change the world!
Follow the travels of Australians Brian and Shirley Rix
Related Post: Motorcycle Adventures Times Two