Women and Motorcycles: Christine Reed Speaks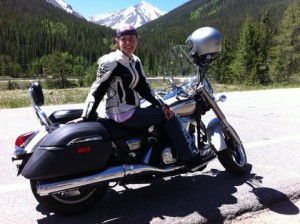 June 2012 Update:  Read Christine's Article about motorcycle travel with her daughter in Redoux Home Magazine.
Women Riders Speak is an interview series with female motorcyclists. Through their stories, they illustrate the transformative role motorcycling has played in their life.
Christine Reed, who has lived in Chanhassen, MN and Grantsburg, WI, started riding in spite of fears and heavy family resistance. She loved it and what she learned about herself.  Her self-confidence and sense of accomplishment shot up immediately.  She relates her experiences with Nora Jane (her bike) with humor and energy.
What prompted you to get into motorcycling?
I got tired of being a terrified passenger.  I mean really, when the guy pulls into the driveway but can't manage to stop before hitting the garbage can?  Surely I could do better than that!
I was told I'd kill myself or someone else, I was fiscally irresponsible, I had children who needed me, I had no business spending time and money and risking my life on a motorcycle.  Was I afraid?  Sure, a bit, but that just reinforced my decision.  I signed up for the next available class at the St Paul, MN Harley dealership in June of 2010.  Our group consisted of four women, four men and one very large Viking's quarterback.  Now I'm not a sports person but when a guy has enough geography on his bicep to tattoo a book you know he's a sports person of some renown.
I was hooked from the first moment when they coached us on how to rock our bikes across the parking lot simply by letting out the clutch.  I loved conquering my fear.  I loved proving to myself and those around me that I had balance and gumption.  But more importantly, I loved how it made me feel; like I could do anything.  I did this on my own and against amazing peer pressure.  It was the first thing I had done just for myself.  It got me wondering what else I could accomplish.
What was your biggest challenge when learning to ride?
I'll share an extraordinary experience.  I was riding with a friend on a busy freeway during rush hour, moving at 55 mph through an area of hills and curves. We were in tight formation with me in the front right of the middle lane on a curve with a car in the lane to my right and just ahead of me.  I was paying attention and focused, yet I suddenly felt clearer, that my "vision" had expanded.  My next thought was "wouldn't it be weird if I got into an accident the same weekend my cousin was in a bicycle accident?" A couple of crotch rockets went by in the left lane and the second one, a female, turned back towards me and waved at me and I thought  "I wonder how far ahead she'd have to be before she wouldn't hear me if I crashed?"  No sooner had "there is a lot going on here and I need to pay attention, "entered my mind,  than a car came off the entrance ramp and pulled right into the car on my immediate right.  Miraculously, my friend and I executed evasive maneuvers and continued on our way unharmed!  It was as if someone had tapped me on the shoulder and said "pay attention" and I had!  That moment solidified my path.
Where have you travelled on your motorcycle?
I rode toDuluth and then took the ferry to Madeline Island with a friend.  We struggled to keep our bikes upright as the boat dipped and water sprayed and we laughed in the throes of our brisk challenge! I drove down to Lanesboro in gusting 38F degree temp with another friend, wishing I had heated apparel and grips.  I managed my bike as the check engine light went on, the speedometer dropped to zero despite my speed of 70 and the brakes started acting up.  We pulled over and were magically 3 miles from a motorcycle shop where the V Star 950 I'd been drooling over was waiting for me!  Since it was mid November and winter was threatening, they offered me a great deal.  I took it as a sign and continued on my way with Nora Jane II.  I had a great trip to Carbondale, Colorado to visit my sis and her family.  The Badlands were amazing.  I learned that I love spontaneity and going with the flow.  Motorcycling is also a great way to contain my antique purchases to a size that fits in a saddlebag!
What is your greatest joy from riding?
I love the room for thought.  I find my creative writing improves when I have consistent time in the saddle.  I love the freedom of movement.  I find myself going down dead end roads just too see what there is to see.  I feel empowered to draw outside the lines.
How do you look back on yourself as a beginner rider now?
I've only been riding for two seasons with two bikes and a cumulative 12k miles but I still consider myself a beginner.