Greer Stewart along with Joley Baker is the co-founder of West Coast Roar. Sharon Hall recently joined them as a business partner.
West Coast Roar creates a space for women to be empowered and to give back to their community through the joy and adventure of the motorcycling community. It's a safe place for them to connect, bring their skills and bring their philanthropy.
In this interview we discuss the concept behind West Coast Roar as well as introducing the 1st Canadian Women Ride Day.
Empowering Women Through Community
Watch video interview on You Tube.
Podcast: Play in new window | Download
Summary notes
To get to know Greer and Sharon and enjoy the complete interview experience, watch the video, listen to the MP3, or download it for listening on ITunes.
Why Greer transitioned from nursing to running a motorcycle store
Nursing supports and encourages. It enables people to find a general healing. I believe that motorcycling, because it's such a large wonderful community, provides a healing place for women. It provides a place of growth.
Women tend to be very charitable people and I absolutely adore the process of watching women stepping out of their comfort zone and into the motorcycle world. I see a lot of changes in mental health for people
Motorcycling is that one pointed focus. It's almost like a spiritual journey. It's very healing. I'm very proud to have switched from nursing because I feel more effective nurturing, encouraging and supporting people in this environment than I did as a nurse.
As a nurse I saw was handing out pills and following protocol; I didn't see the end result. Where I am now, I'm with them from the beginning to the middle and the end. I see people come in that are dreaming with a small desire,…. And then in the end when they come in and show off their bike and they're smiling and connected!
About West Coast Roar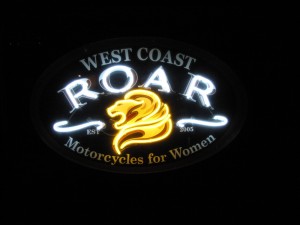 They carry all aspects of motorcycle needs and desire – from bling and things to full face helmets with communication systems, leather gloves, leather coats and full function gear, including make-up.
West Coast Roar also customize motorcycles and sell Iron Horse trailers.
What they provide for women:
A sense of themselves which comes from community.
An organization that is safe,
An organization that is community driven
An organization with a charitable aspect to them
How to get raving fans:
 Speak to women through their heart because that's how we live.
Advice for women seeking encouragement:
Go deep inside and bring out your inner courage. Women by nature have secret desires and they niggle away in their offices, with their children and other relationships – to do more, see more and find more courage in their niche.
1st Canadian Women Riders Day
85 riders attended the International Female Ride Day activities held at WCR, they felt that it was a little to early in the season for many Canadian women riders. West Coast Roar wanted to do something similar. Women were excited by the charity booths to support other women who had been through violence, abuse and trauma and almost $1,000 was raised.
WCR decided to launch a Canadian Women's day on the 3rd Sunday in July of every year, the first time this year will be July 21st . Their dream is to have women riders, any where in the country who are captured by this concept figure out a local organization that supports women, get together for a ride and charge an entry fee that would be a donation.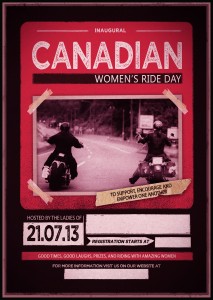 Promotional materials are available for anyone that wants to organize a ride by contacting West Coast Roar. All they ask is that if you raise donations, you let them know the amount so they can do a cumulative total and know what women across Canada are doing for Canadian ride day, to help other women.
Empowerment reaches beyond motorcycling – West Coast Roar is creating a space for women to be empowered and to give back to their community through the joy and adventure of community. It's a safe place for them to connect, bring their skills and bring their philanthropy.
Having a motorcycle, owning the ability to have an extra adventure in life, I'm always looking out for my sisters in the community.
I actually theme-painted a motorcycle in a Haida theme for the West Coast Native women in the community that I live in. So I'm honoring the women by creating an incredible piece of art. It really is about inclusion.
If you have any questions about how to get started in motorcycling or get involved with Canadian Women Ride day, please leave a comment below.