7 Ways to Celebrate Freedom Friday
In celebration of all motorcycle riders, The AMA has designated April as Go Ride! Month, culminating with "Go Ride Safely! Week, this week. Each week has had a different theme and each Friday designated as Freedom Friday.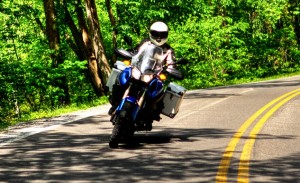 It's important not only for our riding safety and enjoyment to raise awareness of who we as motorcyclists are and what we stand for, but it's also important to protect our rights and freedoms—wherever we live. And everyone, not just motorcyclists, benefit from that.
7 Ways to Celebrate Freedom Friday
Sign up for rider training. Learn everything you can to manage riding risks and do your part to make every ride fun—and safe! I'm an advocate of life-long learning and annual training. There's nothing to lose and everything to gain. Mix it up. Try off-road, advanced rider training, pro-rider—any program led by a qualified professional. It all helps you be a safer, more proficient rider, wherever you ride.
Use appropriate riding gear. Although some gear—i.e. helmets—are legally mandated, there is a wide degree of choice in what we where. Use that choice to dress responsibility. No one plans to go off his or her motorcycle, yet it happens.
Join the AMA to fight for motorcycling rights. This extends beyond the borders of the United States. As a Canadian, I belong to the AMA and enjoy the benefits, including the advocacy. Erosion of rights knows no borders.
Salute the freedom and individualism of motorcycling. Post pictures of your favorite bikes and rides on the AMA Facebook page—or even your own Facebook page. Let others see what we're about.
Arrange a date or event to ride with friends and family.
Select one cause to ride for this year. For example, the MS5000 – an event organized by Paul Pelland – aka Long Haul Paul – who has vowed to ride 1,000,000 miles with MS (Multiple Sclerosis) for MS. Next weekend he's riding 1,000 miles in under 24 hours in a blue leisure suit to raise awareness and funds. And then riding back.
Use social networking to perpetuate the positive image and awareness of motorcycling. This week, use #AMARideSafely with your posts.
AMA Go Ride! Month also provides prizes from AMA Benefit Partners Avis, BikeBandit.com, ColorRite, Cortech, FLY Street and FLY Racing, PowerTye, Red Roof Inns and Tour Master to motorcyclists who follow the AMA Facebook page.
During AMA Go Ride Safely! Week, Tour Master is providing a Tour Master Saber 3 Jacket and Color Rite is providing a $50 gift certificate. Anyone who "likes" or comments on a post on the AMA Facebook page by 4:45 p.m. EDT on April 25 is eligible to win. The winners will be chosen at random.
At the end of AMA Go Ride! Month, one Grand Prize winner will be chosen from everyone who "likes" or comments on an AMA Facebook page post between March 31 and 4:45 p.m. on May 2. The prize package includes a FLY Racing Roller Grande gear bag, a Cortech Super 2.0 8-liter tank bag, a $100 gift certificate from BikeBandit.com, a Rental car voucher from Avis and one night's lodging from Red Roof Inns.
Contestants do not have to be AMA members to win and can enter as often as they wish during AMA Go Ride! Month.
Contest rules are posted on the AMA website: www.americanmotorcyclist.com/GoRideContest. Updates will be available on the AMA Facebook page.
Not an AMA member? Join now at www.americanmotorcyclist.com/join.