Goodbye California and a Special Offer
by Liz Jansen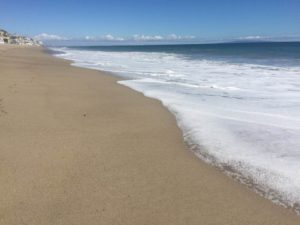 After making my way across the country, I stalled for a week in northern at the Horizons Unlimited travelers' event, then visiting with friends in southern California. Today I'm back on the road, heading east to Georgia, planning to arrive there on the 12th.
The weather in LA tried to lull me into a false sense of security. The warm, sunny climate is a stark contrast to the cool temps and rain that have been hanging around southern Ontario. As hard as it is to leave, I have to keep the weather in mind and arrive home before it gets even colder—and snowy.
The riding has been amazing, and so have the friends—old and new—I've spent time with along the way. Trudy's received an oil change, new sprockets and a chain. We're both reenergized and ready for the next act.
Today, it was imperative that I be on the road. It's exactly a year since Dad passed, and I miss him dearly. Riding across the open landscape gives me time to honor his memory and celebrate his life. He loved the wide open spaces and I know he's with me. "I trust," were the last words I remember from him as he lay in surrender, a poignant reminder of what's important as I go through my life's journey.
More Crash Landing Blurbs and an Offer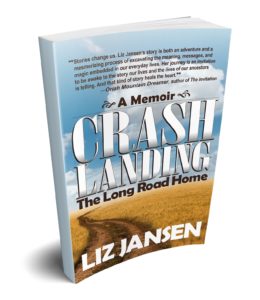 Here are a few more endorsements from early reviewers.
"Made me want to hop on a motorcycle and travel not only 'cross country but deep into my own spirit." Joan Dempsey, award-winning author of This Is How It Begins.
"This is today's version of Zen and the Art of Motorcycle Maintenance if the book had been written by a sixty-year old woman with a bladder infection who had a great knack for crashing. Liz Jansen isn't your typical rider, nor is this your typical self help book. Jansen will do whatever it takes to heal herself, and the result is compelling, startling, and fun." Alexandra Shimo, author of Invisible North
"In a time when many seek adventure in unfamiliar corners of the world, Jansen proves "coming home" is more than just a destination—it's about unveiling the ancestral influences that echo through time and highlight the generational and personal crossroads that lead to who we are today. You'll relate to every mile of Liz's journey." Susan Johnson, Horizons Unlimited
Now it's your turn! I'd really appreciate your help in marketing Crash Landing. I'm looking for readers who are interested in a free advance copy of Crash Landing. While there's no obligation, I'd be very grateful for your honest review on sites like Amazon and Goodreads the day it goes live (Dec. 6, or within a couple of days), sharing through your blog or social media, or just telling a friend about my book. Reader reviews make a huge difference on the how well the book sells. The first ten people to respond will get a copy! Thank you!
If you'd like to be the first to know about upcoming offers and events, respond in the comments below.
NOTE: Wow! Thank you!! We have (more than) our 10!  I'll respond individually below! Watch for more offers!