17 Riders Advise How to Handle Illness while Traveling
What do you do when you're on a trip, need to reach a destination and have to go – but don't feel well enough to ride?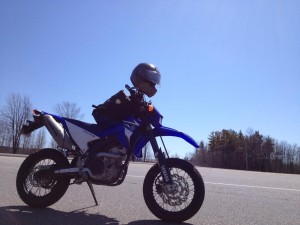 Here's how these Motorcycle Mojo fans responded.
17 riders advise how to handle illness while traveling
Debbie M.  Find a nice hotel and take a break
Pam B.  Not well enough to ride? Easy. Abort mission. Nothing is more important than your safety and your life. Whatever the pressing matter, it can wait until you are feeling up to it. Or park the bike and take another form of transport, then come back for the bike later.
Mark K. It's all about assessing, planning, acting and re-assessing the situation you are in. Take a short break and see if you recover, sometimes you have no choice but to ride and immediately stop when it is safe to do so.
Darlene D.  Not ride and find a place to chill out and catch some zzz's
David L.  Go to ground – an extra night in a motel can mean life rather than death!
Liz J. I was overcome with heat once in Napa and rode far longer than was safe. Dangerous. Was trying to make it to friends a couple of hours away but had to take a room – was sick there for 2 days.
Sandi S.  This happened to me after my first "long trip" last year. I woke up the next morning aching from head to toe, could hardly even open my mouth to eat. We just stayed an extra night where we were. Nothing is so important to risk your safety.
John T.  Always Stop and be safe!! it's not just for you, but also for any riding buddies as well!
Tony M.  Never put a time limit on my rides BUT I'd use a cell phone to let them know I won't be there and head humbly home to the best of my ability
Karen G.  This happened to me last summer. I had to change a whole bunch of plans/reservations, as I would have been literally risking my life to ride, as sick as I was. I was on a solo trip at the time.
Tim M.  Very cool bike now to the question at hand I'm never that organized to have a set time to be anywhere
Donna R.  Take an extra day where you are.
William H.  Do the smart thing , call ahead and let them know you will be late then go to ground till you are well enough to ride.
Frank B.  Put it in "party mode" and go!
Jeffrey M.  If you don't feel well, simply don't ride.
Bruce A.  pop a couple aspirins and try to ride it out because clock is running sometimes u have to get to destination no ifs buts about it. Depends how sick you are otherwise ride it out.
Kevin G.  I answer so many hypothetical and real life situations and scenarios pertaining to riding /driving with something that was drilled into me a long time ago…. "When in doubt…. don't".
Have you ever been in that situation?  How do you handle it?