Jeremy Kroeker has traveled to nearly 30 countries with his motorcycle and done at least one outrageously stupid thing in every one.
One October, he rode from Canada to Panama in an attempt to flee the pain of a broken relationship. Motorcycle Therapy – A Canadian Adventure in Central America tells his story of personal discovery, friendship and reconciliation that occurs along the way.
He has evaded police in Egypt, tasted teargas in Israel, scrambled through minefields in Bosnia and Lebanon, and wrangled a venomous snake in Austria. One time he got a sliver in El Salvador.
More recently, Kroeker rode from Germany through the Middle East into Iran, and finally through North Africa before returning to Europe. That trip provides the foundation for his newest book, Through Dust and Darkness — A Motorcycle Journey of Fear and Faith in the Middle East.
Listen now:
Podcast: Play in new window | Download
In this episode you'll learn:
How a Mennonite culture shaped his formative years
What he values and dislikes about the culture
How his background influenced his perception of how the world worked
The role of motorcycling in influencing perspective
The common ground between culture and religious extremes
How he's come to terms with his restless spirit
Traveling definitely broadened Jeremy's horizons and made him less judgmental and willing to look at things from a different perspective. Trying to see things from other people's perspectives is something he can do now, and it's made him a better person.
When you're traveling by motorcycle, you're making yourself even more vulnerable than the average traveler, even if it's just to pull into a gas station for fuel. Breaking down, in hindsight, can lead to the best travel experiences.  When you're in the middle of a breakdown, you're uncomfortable and scared. Then you meet someone amazing who rescues you or gives you a meal. Obviously you can meet the wrong people in those situations.  But as long as you show a little bit of common sense and savvy, you can move around this world fairly safely.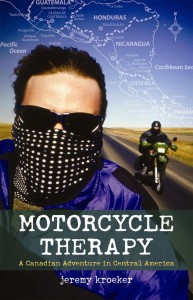 Travel is part of our desire to put ourselves up against some grand challenge. It used to be that challenge was survival, but that's the past. That's why the breakdowns are so valuable now, because it gets us back to where we were before, focused on survival.
Tweetable (Click to Tweet)
"Breakdowns are important because they get us focused on our innate need for survival."  Jeremy Kroeker
Resources:
Watch Now:
Subscribe on iTunes and Leave a 5-star review and your name will be entered for the Weekly (during July and August) draw!