Life Lessons—5 Tips for the Face in the Mirror
Enjoy this excerpt from Life Lessons from Motorcycles (LLFM)—75 Tips for the Face in the Mirror, the next in the LLFM series. Download the entire ebook for free.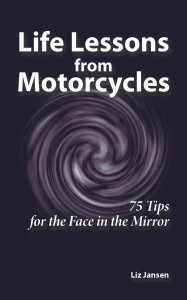 The following five principles form the broad picture, which gives shape to the messages for the face in the mirror.
Love the reflection. No matter what the mirror is showing you, extend compassion and kindness. In some way, that face is yours. Preparing yourself to serve your purpose starts with serving and loving yourself.
Be pragmatic. Try not to take things personally, and instead look objectively at what's there without reading emotions into it. Motorcycles respond only to fact, not emotion. Fear can distort your perspective and cause you to react inappropriately. Even if you can't gain perspective by removing yourself physically from a situation, you can distance yourself mentally and emotionally.
Reflections change. Every time you look in your motorcycle mirror, the reflection is different. You're moving in time and space. People come and go from your life. As you learn your lessons and take on new ones, you attract new mirror images, and, with them, new lessons.
Looks are merely a snapshot. It would be foolhardy to dwell on mirrors as you're riding. Likewise, it's unwise to focus too much attention on the reflection from others. As vital as mirrors are in keeping you safe, most of your time should be spent looking ahead and following your own inner guidance.
You, too, are a mirror. Just as others reflect your strengths and flaws, so, too, do you reciprocate with a response. Try changing your response, and observe the difference doing so makes in them.
Accept what you see in the mirror and use the opportunity for self-discovery and personal growth. If you're not happy with your reflection, take positive action and watch the reflection change.
 Download the entire ebook for free – for one more week only.