The Secret to Longevity
"We're just sitting down for coffee break," said the familiar voice on the other end of the phone.  It was my 86-year-old mother and I'd called to check in as I do several times a week. My parents have been having coffee breaks at 10:00 a.m. sharp for fifty years! I should know the schedule by now.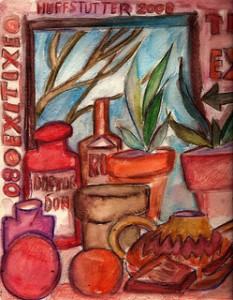 Although they retired long ago, it was only a year ago my parents moved from the farm.But the routine established during a lifetime of farming is as strong as ever.
Chatting later with my sister Mary, we laughed about taking a break from "nothing." Even so, we acknowledged that at 86 and both in relatively good health, they may be on to a secret to longevity with their routine. They've had it for as long as we can remember.
Here's the Monday to Friday schedule.
7:00                    Breakfast and Prayer
8:00                    Start work
10:00                  Morning coffee break
12:00                  Lunch
12:30                  Nap
1:00                    Back to work
3:00                    Afternoon coffee break
5:00                    Quitting time
5:30                    Dinner
10:00                  The National with Peter Mansbridge (CBC TV)
11:00                  Bedtime
Note: Quitting time was mostly for the "hired help" which usually included us kids. During harvest, we (mostly dad) often went back to work after dinner.
There was even a set menu for breakfast, lunch and dinner, every day of the week. I imagine it was the only way to manage the farm and six kids.
While the weekend schedule was more relaxed, the midday nap was non-negotiable. There's lots of research supporting the benefits of nap. National Sleep Foundation. Or this in the The Secret (and surprising) Power of Naps. The Sweet Science of Dozing talks about the benefits of midday napping.
Whether it was the routine, which included the nap, or the nap itself, it's served my parents well. It's hard to argue against fact. Maybe there's a lesson here for all of us.
PS. Happy Birthday Robert.
Related Post: Thanksgiving Tribute to My Parents