22 Answers on Motives for Men and Women Riders
Events for Women's Month take place throughout March, with March 8th designated officially as International Women's Day – started in the '20's to recognize women's issues. It's now celebrated globally throughout the world – and it inspired our Ladies Night theme for Motorcycle Mojo Magazine's FaceBook  last week.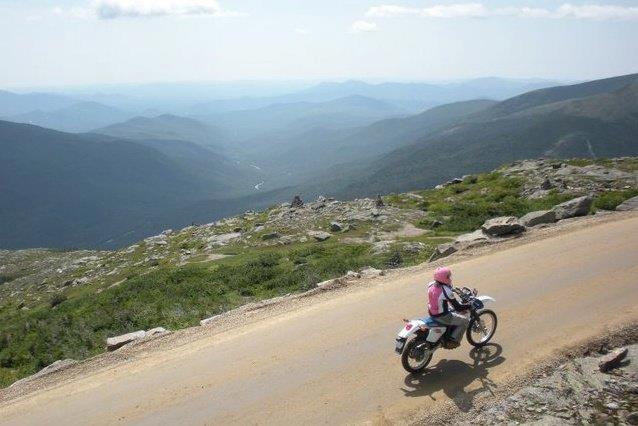 Mojo Fans were asked, "Do men and women ride for the same or different reasons?" "What are they?" Here's how they responded.
22 answers on motives for men and women riders
John T.  not different reasons, after all, its all about the freedom, but different ways YES! unfortunately most ladies are tentative on the gas, not to say they cannot ride well, but as a guy, quite often we end up waiting! This is not always the case though, as there are also many ladies, that can ride better than a lot of men too!
Grant G.  The same reasons…… BTW, is that the Mount Washington Auto Road….. Great ride ! Liz J. Grant – not sure where. I believe this was submitted by a Mojo reader.
Liz J.  John – interesting perspective. Yet from the women – many say that men (generalizing) ride too fast. Maybe it's just different ways of enjoying the same experience?
Tom C.  I would say yes
Juan W.  I can speak only for myself, and I just love to ride!
Stephanie M.  Same reasons for the most part. I know when I start riding, it's for the freedom and the thrill of the open road.
Noel H.  I don't think there is much of a dichotomy between men and women so much as that everyone who rides does so for their own reasons. It's kinda one of those things that is more or less gender neutral.
John T.  100% correct Liz, and that is probably one of the reasons you usually see women ride together and men ride together. no offence meant either, it is just how each of us chooses to ride.
Karen G. I think we ride for the same reasons….the freedom, the passion, sometimes the solitude—the whole feeling that can't be described or defined.
Liz J.  None taken. It's good – and safer when riders make the choices that are right for them. Although it is fun riding together.
Gordon H.  I would say my wife rides for totally different reasons. Now what are those reasons……..I'm only a Husband and only for 29years I am not GOD!!!!
Tanya M.  I ride because it's as close to flying as I can get…without leaving the ground. Freedom, sanity…and love.
Stephanie C.  My reasons are the same as my husbands. Well, we did meet in a bike shop, nobody needs any persuading to go out for a ride in this household.
Monet B.  I prefer riding with men.. they ride harder and faster than a lot of women.. although I didn't always like riding this way.. it was always at my comfort level, but riding with others better than yourself can only make you a better rider.. I'm sure most people that ride have their own reason for it, but some the same. Freedom, passion, confidence in knowing you can do it..etc.
Ursula B.  I ride my dirt bike like those scary young kids and I ride my street bike to relax, I can't wipe the perma-grin off my mug! Usually I go for rides with my husband and two of his friends or by myself. I am planning to try my hardest to go for a ride with a couple of girls but unbelievable as it may be I have not done that yet!
Don S. We all ride for the same reason motorcycles that is now E bikes I'm not sure
Glenn R.  Freedom.
Helena K.  I ride for the fresh air, having fun, freedom, and the joy of meeting other bike riders and listening to their stories.
CF.  I'm not sure why we need to generalize between genders. It's purely an individual thing regardless of gender. We haven't fully transitioned to a truly equal society where both men and women can freely (and without stigma) chose whatever they want to do (instead of what role society expects of them).
I've seen women on YouTube and Facebook who ride for speed (they'll have sportbikes), some for adventure (they'll have adventure/off-road/dual-sport bikes), for commuting (street/standard/electric bikes) and some for stunts and maybe for multiple reasons (speed and adventure).I think the second part is the better question to get feedback on (ie, what's the reason you ride).
I'm a guy and I'm not interested in riding for speed nor for wheelies or stunts. I'm for the adventure aspect that only a motorcycle can provide. I like exploring new destinations and seeing things I would miss in a car. For me, being in a car isolates me from the world and environment. I feel no connection. Whereas on a bike, I feel a lot more connected.
And I also enjoy it for the other reasons stated in this conversation (freedom, individuality, personification done through customizing our bikes, the fun of doing twisties and cornering though not at high speeds, etc), which I think is a universal thing.
Now, you could say more men than women like to push the speed envelope or push it farther. But this may be a generational thing because it's only been recent that women have been treated with the same level of respect as men (in terms of being a rider). Or maybe it's a hormonal thing (testosterone levels).
IMHO, for the most part, I think men and women ride for the similar reasons and in all cases, the reasons are individually made instead of some societal expection, pre-determination or tradition.
Roni C. I ride because I love the freedom it gives me… I used to always bug my hubby to take me out.. then he bought me my own bike so that I could go when ever I wanted to.
Len T.  We all have our reasons as individuals; what's this segregation of the sexes crap!
Bruce A.  We all ride for same reasons different reasons, point is ride. Sexes don't come into factoring why?