18 Riders Comment on Moto Rain Gear
Finding reliable rain gear has been a life long quest for me. Sure it has to stand up to the rigors of the weather, but is it so much to ask that it keep the rain out?  We asked the fans of Motorcycle Mojo Magazine about their experience. Keep it in mind as you browse the bike show for deals.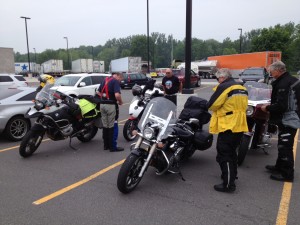 18 Riders Comment on Moto Rain Gear
Photo Credit: Motorcycle Mojo Magazine
Linda Y.  I've never found anything I'm happy with. I have a two-piece suit similar to the yellow one in the picture. It's like wearing a plastic bag in the summer.
Liz J.  That was me Linda. I tried just about everything. Usually the tops were OK but the pants leaked. From the outside – lol.
Ursula B.  I have rain gear in my saddlebags but would you believe it has never been used and I have been caught in the worst possible downpours too. Once I get soaked I see no point in putting it on!
Greg H. The ATV and Motorcycle Rain suit sold at Canadian Tire is the best I ever had. It is made strong, has reflective strips on it and most important keeps you dry!. Like anything at CT you wait for the sale and get it for 59.99 lol
Mark K.  Aerostich. That is all.
Catharine SD Gortex is the only gear for rain. Lol but the new Scott rain gear is nice if you don't have Gortex
Lindsay T. Must have a strong seal in crotch seams. Nothing worse than removing the suit in a restaurant and looking like you have peed yourself. Bought a nice 2 piece suit in Yellowknife but it's getting worn out
Liz J.  The fisherman's gear is good but too heavy to be practical for riding, especially if you have to store it. Or it gets hot!
Lindsay T.  Sometimes non-motorcycle gear flaps apart at speed.
Noel H.  Best thing to do if you do a lot of traveling is get a main jacket that is waterproof. I used to wear leather and carry rain gear, (Norwesters was the last set I had), but if you get a good textile jacket you don't need the rain gear. I still have leather pants and a pair of zip into Pioneer rain pants but when my leather pants finally give up the ghost I'll get the pants that go with my textile jacket. BTW, at all costs avoid rain pants with a fly.
Brenda B.  Liz :haven't been riding in the rain much, but so far so good .lol
Brian L.  Rain Gear? don't carry it. Olympia has been waterproof enough for us.
Liz J.  I now have a Gortex suit and it's wonderful. I don't have to stop to put on rain gear.
Brenda B. I myself have Frog Toggs but friends of mine wear the rainsuits that fishermen would wear. Work well but hot.
Liz J.  A lot of people I know wear Frog Toggs but I've been very disappointed with them. They replaced the first set but they still leaked. I ended up throwing the works out.
Cory D.  Given up on rain gear – my FirstGear jacket is the best yet. Additionally, I bought some cheap rain pants that pack up small, use plastic bags in my boots, disposable latex gloves under my regular gloves.
Danielle B.  Lindsay, I have waterproof boots (sidi) but breathable boots in women's sizes… my kingdom for a breathable boot!
Sam H.  Nelson Rigg  Stormrider is 2 piece raingear that works pretty well. It comes with a 2 year "no hassle" warranty. One of the tricks to getting decent gear is to try it on with your riding gear on when you buy it.
What have you found that works well?