Allan Karl spent nearly three years riding around the world, alone on a motorcycle. Along the way and high in the Bolivian Andes he crashed and crushed his leg. But this didn't stop him. While he was devastated by this painful abrupt and potential end to his journey, dozens of strangers kept his spirits alive through their selfless succor to his safety and well-being.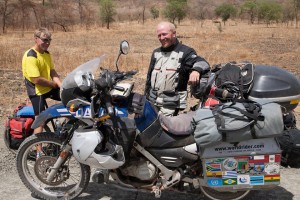 After an agonizing recovery period he returned to Bolivia, fetched his bike, and continued his journey, ultimately logging nearly 62,000 miles while traversing five continents and through 35 countries.
Allan is principal of WorldRider Productions. where he focuses on speaking, publishing, coaching, and creating content that brings to life his stories and experiences around the world—demonstrating again and again how the discoveries he has made and the lessons learned can help all of us lead more rewarding lives.
He's is an photographer, marketing entrepreneur, professional keynote speaker, committed adventurer—and the author of FORKS: A Quest for Culture, Cuisine, and Connection that chronicles his three-year solo journey around the world alone on a motorcycle.
Listen Now:
Podcast: Play in new window | Download
In this episode you'll learn:
How sudden and unexpected external events can change our lives
How to navigate through change in your own life
The value of community in dealing with change
Daily practices you can take proactively to minimize the effect of change
How to filter out irrelevant opinions of others
Why it's important to periodically assess your actions
How to look for opportunities, even in the midst of change when it's hard
How your perspective can influence the outcome of change
Allan had a long-held dream of traveling the world by motorcycle. After a job loss and a divorce, he recognized an opportunity to unleash this dream and follow his passions and left on July 4, 2005.
After his divorce in 2003, he did what most of us do—resorted to what was comfortable for him and started another company. It didn't take long until he realized he just wasn't happy doing the same old thing with just a different sign on the door. He recognized this as a time to revive that dream and follow his passion.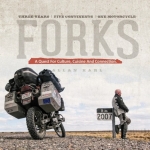 He was in Bolivia, at 14,000', having ridden through cold, rain, even snow, chasing a goal to camp out on the Salar de Uyuni, the largest salt flat in the world. Because of the weather he'd been worried about whether or not he'd be able to get there when it was dry. He'd been told the Salar was dry. He wasn't told about the road to get there which was rutted and muddy and slippery. His rear wheel slid out and his bike landed on top of him, crushing his leg, breaking it in three places. He'd come to the end of the metaphorical road.
It's easy to get bogged down by self-pity and worry, sometimes placed on you by others, but we need to fail in order to succeed. At that time, there were other forks, other roads to travel down.
Tweetable (Click to Tweet)
"Often it takes a new perspective to see what we think are obstacles are really opportunities."  Allan Karl
"My journey wasn't about me. It was about bringing the world back home and sharing it."  Allan Karl
Resources
Watch Allan's interview on navigating change here: