Carla King is an adventure travel writer who specializes in motorcycling around the world on a variety of often unreliable, indigenous motorcycles like India's Royal Enfield Bullet and China's Chang Jiang sidecar rig. You can find her books and online diaries from solo journeys in America, China, India, Europe, and Africa at CarlaKing.com. Carla's wisdom was also shared in Women, Motorcycles and the Road to Empowerment
Carla King on How to Live a Life of Freedom & Fulfillment
Podcast: Play in new window | Download
Summary Notes
To get to know Carla and enjoy the complete interview experience, watch the video, listen to the MP3, or download it for listening on ITunes.
On living life by her own compass from an early age.
Carla's natural tendency as an introvert lent itself to navigating by her own compass. Although she loves being with other people, she needs alone time to get her energy. Growing up, she wasn't much affected by outside forces or peer pressure, enjoying time alone to draw, write and play. She found her first motorcycle at age 14, which allowed her to escape from chores, her sister – and anything else she chose.
How Carla got started with solo travel.
It was quite unintentional. "I only went on my first solo motorcycle trip because my husband kept cancelling our vacation plans." Finally, after he failed to show up in Italy for a much anticipated motorcycle trip of Europe, she got angry, took one of the 2 motorcycles she had rented and went off on her own vacation.
Camping in the midst of a French family, German family and an English family she was invited to join them for drinks and meals. Struck by their kindness and camaraderie, that night she opened herself to meeting people on the road. Whereas before she'd been focused on herself, her own problems and the end of her marriage, she now knew that what was happening was for the better.

"It was a hard lesson and a lesson I wish I had learned many years before, because I would have been happier taking off right after school instead of waiting for other people to come with me. "
Carla observes that many people in the developed world, never break out of their own comfort zone to understand the wonderful people and experiences that share the world. It's something you realize by getting out and traveling, but we're so happy and complacent, we sit here and watch the National Geographic channel and live through that.
How Carla got started with self-publishing.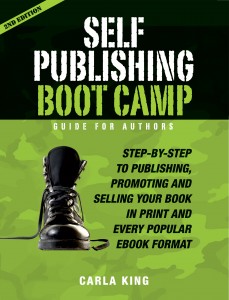 She was a technical writer in Silicon Valley so she knew how to get a printed product out to those who needed it. It was no big mystery, although very few were doing it. Living in Nice, France in the mid 1990's, she was an avid bicycler and looking for a printed guide to assist her in planning day trip routes. When it turned out there wasn't one, she acted on the opportunity and began recording day trip routes herself.
Publishers back home weren't interested in what she'd created  so she ended up publishing the book herself. Returning to France, she sold them to tourist shops, English language book stores and bicycle shops, completely making her money back.
About having the courage to take a personal risk for something she believed in.
That first time — when her marriage had ended, she'd become angry and gone ahead on her own — showed her it could be done and that she didn't need to be afraid of people.
Coming back from that trip, she found the responsibility of owning property burdensome. Selling her house made her feel so free, so much so that she has been a committed renter ever since. "I can put my stuff in storage, pack up and go whenever I want. I now have a storage unit's worth of stuff that's easily moved in half a day, so when I want to go, I can do that. I feel light now and I felt heavy before when I had stuff."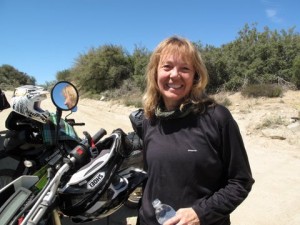 Carla loves to engage with people on her travels. "If you're associated with a powerful symbol, like a woman alone riding a motorcycle, or even her bicycle or backpacking, they see you first as a person who's doing a sport, not just a tourist who's there to be taken advantage of. They're suddenly interested in who you are and where you've come from. Suddenly you've become an ambassador and a news source."
When she traveled in Africa, alone on her bicycle, it was, "like the circus had come to town." She'd bicycle in to a village where they'd never seen an American, woman alone, blonde hair and the kids were terrified of this "boogie man" they'd been warned about. She was a strange creature from outer space that did magical things with the things on her bicycle. Able to turn fear into friendship and become a recipient of their friendship and generosity, it was a joy to see their joy.
How a horrible experience launched a fulfilling new life.
When she was left alone in Italy, strengths and skills she already had helped her manage. She was raised in the country by parents who were do it yourselfers. Her mom was an artist and her dad always let her and her sister help with the machinery. Carla would help fix the brakes on the tractor and kill chickens and rabbits for dinner. When she spotted a motorcycle and said she wanted it, her dad told her she could have it if she could fix it up. He helped and she learned how to do it. After that, she was never afraid of not being able to fix a broken down motorcycle.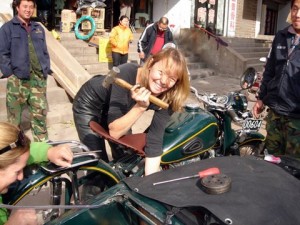 In fact, she loves breaking down. A trip to Italy on a Moto Guzzi seemed so tame after she'd already been in China and slept on couches of peasants, had banquets in her honor and spent time with mechanics' families. In Italy, she camped, the bike was worked fine and nothing happened.
How she balances her many roles.
Carla is well-known as a rider, moto-journalist, writer, speaker and now also organizes self-publishing boot camps. She does find it a juggling act to maintain balance. In the end, making money takes precedence over things that aren't making money yet.
Now that she's moved, she's focusing on settling down, establishing priorities and getting to know people and venues in her new location. Juggling is nothing new however. As a writer, she's always had journalistic projects, books on the go, interviews to do.
About a year of significant changes.
A year ago, Carla was living in a beautiful 350 square foot cottage in Point Richmond, overlooking San Francisco Bay that she'd been in for 5 years. Unable to tolerate her landlord any longer, she was forced to move, temporarily staying with friends.
That move made her open up to possibilities, very much like the situation she'd faced when her marriage ended and forced her out of her comfort zone. She thought she was free in her rented cottage, but learned she wasn't. "I was very emotionally and psychologically planted there, and she (landlord) uproots me. Suddenly I was literally open to anything."
She decided to explore trying southern California, where the motorcycle industry is based and where she could also enjoy other interests – like scuba diving. Inadvertently, she opened herself up to love as well. "When you open yourself up, be prepared for anything!"
After not having a serious long-term relationship for a long time, love found her. She now lives in San Diego with love and motorcycles in her life and feels like she's embarking on another huge adventure.
Her advice for people who say it's too late to try something new.
Carla admits to being financially insecure a lot. As a freelancer, she gets a pile of money, then it dwindles, and she has to do it again. "I like security, but not at the expense of the freedom I have. Nobody stands on their deathbed to say they wished they'd work harder to be more secure. They all say they wished they'd followed their dream. But it's really hard."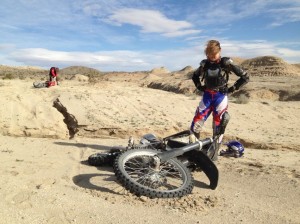 "We all are forced to do drastic things in our life: we're born, go to kindergarten, leave home and go to college, get married, get divorced – all very difficult. Imagine if the expectations were different. If instead of being told, "When you grow up and go to college or get married, etc., we were told , "When you grow up and travel around the world on a motorcycle….." or "When you grow up and hike in the Himalayas……" – how different our lives would be? Those possibilities aren't even put in our heads."
Living in San Francisco, she surrounded herself with people who were different, purposefully seeking out people who were doing what she wanted to do. She acknowledges that a lot of your perspective has to do with the people you hang out with.
"I don't want to hear any more about people who tell me not to do things because they're too dangerous. I want to hang out with people who've done it and who encourage me to do it. Find a group of friends who have done it, who want to do it and don't send you negative energy.
How pushing your comfort zone opens up a whole new world of possibilities.
"I don't think there's a time when you need to stop doing anything. I see people doing all kinds of new things after they've retired at age 65 – sailing, learning new languages, visiting new countries and fixing complicated boats. They're enjoying life so much more! I don't see myself ever stopping and 'settling down."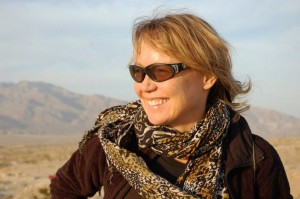 "Society tells us we're trading down when we sell our house and our material possessions to go on a 4-year round the world motorcycle journey or sailing trip or live on a beach in Baja and fish. I think it's really trading up. "