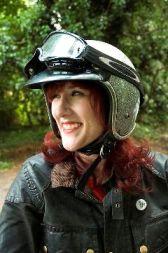 Lois Pryce is a journalist, author, speaker and adventurer extraordinaire. Her solo motorcycle escapades in the Americas and Africa are captured in Lois on the Loose and Red Tape and White Knuckles with characteristic compassion, candor and aplomb. She's hosted an all-women's motorcycle trip with  Compass Expeditions  in Brazil and together with husband Austin Vince, runs dirt-biking navigation events in the Spanish Pyrenees. They've also launched The Adventure Travel Film Festival in the UK, USA and Australia. Check out her website: LoisontheLoose.

Podcast: Play in new window | Download
Audio Only
Summary Notes
Lois's Start with Adventure Travel
Basically Lois wanted a break from a boring job and the same old work routine. She'd worked since she left school, had reached the grand old age of 29, and had the urge to see the world. She loved to motorcycle and came up with the idea of traveling. Of course once you've done it, that urge doesn't go away, it just gets worse.
Realizing she couldn't afford to do a whole RTW (Round the World) trip she chose the Americas, "because I love the USA and I'd always wanted to travel down the west coast—and then I'd just keep going, through Mexico and Latin America." She was intrigued by riding through all different types of terrain—mountains, desert, coastlines – everything imaginable. So it was great for a first trip.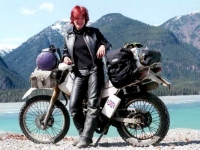 Lois chose the USA intentionally. It was an English speaking country, she could get parts for her bike and gradually ease into life on the road. Once she got used to it, she'd be ready for something more challenging.
On going alone.
That was important to her, especially on her first trip. She'd worked since she left school and loved life in London. But felt that life wasn't really testing her. It was time to throw herself to the world and see how she would get on. By traveling alone, it was more of a challenge. It's harder in a way but it's more rewarding. "You get to meet more people and you're more vulnerable, but people respond favorably to that."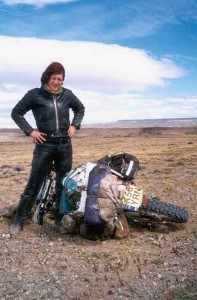 How to plan
There's a danger of too much planning which can put you off going. Lois advises to plan your route, prepare your bike, get your finances together, and get your injections. Do all the sensible things but not much more. The whole point of these trips is that you want them to happen to you. You have to allow for flexibility.
How to get past your comfort zone
The hard part is not motorcycling or speaking foreign languages, crossing borders or eating strange food. The hard part is making that leap to leave things behind – your job, family or home. Once you've done that, everything else is easy. You can always come back to those things. They don't go away forever.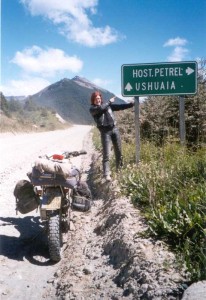 Minimalism
She loves the minimalism of being on the road. You just can't take a lot so there's less stuff to break, less to get lost or stolen. It makes life on the road so much easier, but no one realizes it until they've done it. The more trips you do, the less you bring.
Biggest Lesson
The main lesson she's learned is that she doesn't need to worry about things because it all works out in the end. You need to stay calm and don't worry. Probably the best thing I've learned through it and you can apply that to every aspect of your life.
How to stay safe
She's had a bit of hassle or harassment, but never a serious incident. But that's like you'd get anywhere. On that first trip through North and South America, she never felt her personal safety was under threat, but she advises modifying your behavior in a way you wouldn't do at home. When you travel your instincts get super honed after a couple of weeks and they'll alert you if something is amiss. Trust your instincts, they're always right.
There really isn't much of a threat. Most people don't want to hurt another human being, so the danger is very small. Men tend to experience more harassment and violence than women. It depends on your own behavior and how you respond to people. People will react to you in kind. On the whole, people just want to help you.
People are curious and full of questions. It's very rare for that to turn into an unpleasant experience.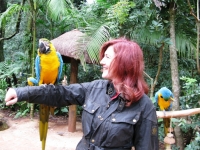 Making a Difference
Hopefully I leave people I meet with the impression that British people are friendly and that motorcyclists are friendly. I might be the only British person they ever meet or the only motorcyclist they ever meet. It's important to make that one fleeting impression a good impression.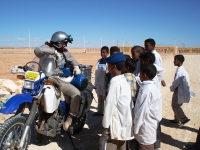 The other impression I hope I leave is that women are capable of doing this kind of thing. A lot of the countries I travel through have traditional cultures where women are expected to just get married and have children, no careers or jobs. I want them to think, "She can do it, so maybe I can try something that 's not the norm in my culture."
Advice on Getting Started
Lois had only been riding a year and hadn't ridden that far. The main thing to remember is that it's so much easier than you think it will be. It sounds like it will be hard, difficult and scary. In fact, it's easier than living your normal life at home, because it's so simple. All you have to do is get up, ride, eat, sleep, repeat. It's an incredibly liberating way to live.
Don't be bogged down by the thought that you need to speak loads of languages, be a great mechanic, have loads of money, or even be a great rider. You just need to be an open minded, compassionate human being and that will get you through any situation.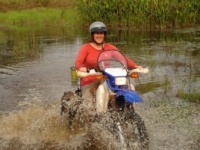 How to Balance the Call of Adventure and Making a Living
That is more of a risk than anything else. Lois gave up her job at the BBC and had nothing to go back to. She was hoping that inspiration would hit on the road – and it did. She heartily endorses taking those risks. Some people get a leave of absence from their job, others quit and plan to get another job when they get back, others work along the way There are lots of ways to do it, you just need to be inventive. Life on the road is cheaper than life at home. You don't need a big expensive motorcycle. You just need a good quality trail bike that doesn't have a lot of miles on it. If you're a rider, you already have all the gear you need. You can just go! Allow things to happen, go with the flow and all will work out.
Parting Words
"Have a go. Nothing bad can come of having a go. If you do have the urge, don't feel pressured to do a big thing, just do it at your own pace. Do a little trip and see how you feel. Before you know it, you'll be half way to Argentina."