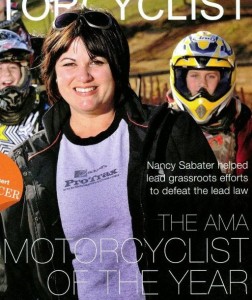 by Liz Jansen
Nancy Sabater is a motorcyclist from Charlotte Hall, MD, who was named AMA's 2011 Motorcyclist of the Year. She earned that distinction for her grassroots advocacy to save youth motorcycles and all-terrain vehicle (ATVs) from a misguided federal law that would have banned their sale on January 1, 2012.
The victory over the "lead law" was sealed when President Obama signed legislation overturning the ban on August 12, 2011, ending a three-year battle to save youth riding for future generations.
Audio Download (Right-click)
Video
Podcast: Play in new window | Download
Summary Notes
How Nancy got into riding
Nancy started trail riding when she was in her 20's. Now in her 40's, she enjoys it more than ever. She competes in hare scrambles, does a bit of dual-sport riding but for mostly enjoys off-road trails.
Getting Into Advocacy
Prior to getting involved with the "lead law", she volunteered to help someone who was running for Congress and that educated her on how to reach people and how the government operates. It was also an education on how as a constituent, it's important to let your representative know what your feelings are on issues that affect you. It's up to you to make sure they're representing your opinions.
When the "lead law" rose to the forefront, she wanted to know what the issues were, who to contact and how she could be effective.
The "lead law" was put into place by well-intentioned people at the Consumer Products Safety Commission, to protect children who were being poisoned by high levels of lead in toys coming from China. When they drafted the law, they blanketed everything from toys to books and motorcycles. It became apparent that it needed be thought out and have the flaws addressed.
One of her prime motivators was seeing how the family experience of motorcycling had shaped people, including her fiancée, Billy who started racing at age 6. Children have to deal with many organizations, meet people from different countries – it's an incredible life education and contributes to their success as a person.
The sport offers camaraderie, spend time with family and develop relationships across the country. Additionally, kids have to maintain a certain grade average to race.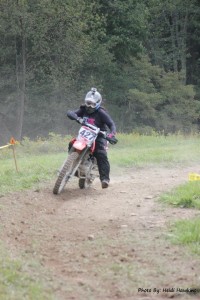 What she did
Found out about it in an AMA Email alert and asked what she could do. She worked with Jessica Irving who was in AMA's Government Relations Department. They made it easy to get material so Nancy could go to work.
Next she embarked on an awareness campaign, first with her own network, then getting on the phone and connecting with motorcycle dealers. She encouraged them to have petitions visible on their parts counters, guided them to resources, including AMA. Some retailers weren't even aware of the implications.
Lots of people came together to turn this bill around.
Biggest factor that contributed to success: Communication
She shared a lot of information with a lot of people, wrote letters to the editor, used social networking. She was vocal about using any opportunity, event, and media to communicate what was going on.
The Bill was signed into law in 2008, but a temporary stay was enacted once the flaws became apparent. People became complacent after a while.
This happened with motorcycling but the same process could apply to any issue. You have to think of how small things can lead to loss of freedoms.
Turning Point
The AMA organized a Capitol Hill climb, brought kids dress in motorcycle gear, arranged meetings with representatives, very organized, families came. It was a great education for the kids on political & legislative process. It put a real human face on the issue.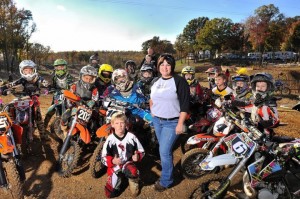 How you can get involved
Start by signing up for AMA's alerts.  Because they need your permission to send you an email, you have to sign up.  Otherwise you may not become aware of issues that affect your rights and freedoms – and how you ride – until it's too late.
MotoPatriot
This is a FaceBook page Nancy started to make people aware of issues, like access to trails, ethanol. Join it here. It's also a way of giving a shout-out for extraordinary contribution to our sport. We can't take anything for granted. Anyone can join, to talk about issues, increase awareness and share concerns. There are many different organizations trying to do something positive for motorcycling and this is a place to capture the common ground. She encourages people to take action if they feel something.
PS: Dirt Bike Girl Adventures
Nancy is putting together a team to put together a 24-hour challenge race at Perry Mountain in Alabama. Motorcycling is an amazing way to meet people. Check out the FB page.