Announcing Power of the Road Online Conference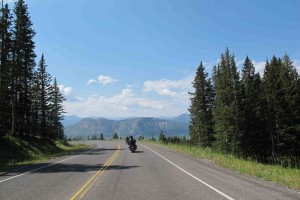 by Liz Jansen
I'm super excited to announce a new online event that will use Power of the Open Road to lead global change. If you're ready for change and ready to make a greater individual and collective difference, you won't want to miss it.
These things don't come about because of a singular effort. I'd like to acknowledge my gratitude to Penny Green, Carla King, Leslie Prevish, Mark Richardson and Genevieve Schmitt for lending their expertise and ongoing support in birthing this event.
What it is
Power of the Road is a non-partisan, borderless virtual conference, focused on interconnection, inclusiveness, and common ground. Through twenty high-profile speakers, all riders, who model courage and leadership, the conference will explore the theme of Strength Through Balance.
In keeping with this spirit, 10 percent of proceeds will be donated to Riders for Health, a global charity providing transport for medical supplies in Africa.
When it's happening
Power of the Road is being held April 7 to 11, 2014. Each day we'll livestream four interviews starting at 9am PST/ 12 EST / 5pm GMT. Each interview starts on the hour. You're welcome to join us for all 20 interviews or just a few. It's up to you! 
Why it's being held
Staying in balance is a fundamental requirement of riding a motorcycle, and teaches us how to be a stronger rider. Riding a motorcycle makes us more aware of strengths we already have and teaches us confidence, We can use these lessons to better our lives, create strength and cultivate change in the communities and countries in which we live, work, and ride.
Why it's being held online
This opens up access to leaders from all over the world. It means that you can listen from wherever you happen to be, at a time that's convenient for you. Interviews will be scheduled for set times each day, during which the speaker is available for a live online chat.
How it works
A first for the motorcycle community, this virtual conference occurs completely online, and is delivered through pre-recorded interviews. You can participate for free if you listen during, or within 24 hours of the scheduled time. You can also choose to purchase a bundle of the complete set of videos and select products.
Who's speaking
Drawing from United States, Canada and Europe, speakers cover diverse walks of life, from business leaders, politicians, and adventurers, to mountaineers and authors. They're role models who follow their own compass and live life to the fullest. They'll cover a range of topics from breaking past limiting beliefs and cultural expectations, to adventure travel, and philanthropy. See the list of speakers here.
Learn more
To find out more and to register, visit the Power of the Road website.
I look forward to sharing this Road with you!