9 Styles that Reflect Your Purpose
Branding is the tangible way you reflect personal philosophies and personalities. Essentially, brands are the external representation of your inner self. They reflect your values, perspectives and interests.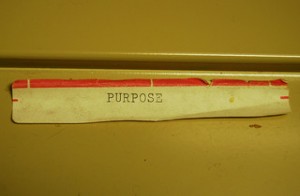 Motorcycles come in different styles designed for a specific type of riding. You too were born with a unique purpose, interests and gifts. Developing those attributes is part of your journey.
Although you may try, you are not meant to be all things to all people. Listen to your heart, follow your passion and do the thing you're here to do.
Here's a lighthearted look at what that may look like, using motorcycle styles as a reference – and taking sweeping editorial liberties.
9 Styles that Reflect Your Purpose
Touring. These tend to be large with lots of accessories. They're comfortable for long distances, comfortable for passengers and capable of carrying large loads. Touring bikes are mainstream, not venturing far off the beaten path. These are the elders of the tribe. Wise, experienced, communal, access to lots of resources and content to leave the risk-taking to others.
Off-road. Nothing says inner child more than an off-road motorcycle. Often the first exposure to riding, they're small, nimble and playful. They are fearless, going where no one else can go, love to explore nature. Every tribe needs children to avoid extinction. And everyone needs to exercise their inner child.
Sport Bike. Fast, flashy, invincible and a tendency to be racy, they like to push the envelope. They pack a ton of energy for their size. They're the adolescent of the tribe – and within each one of you. They like to get out and let loose.
Cruiser. By far the largest demographic, like their designation says, they love to get out for a Sunday cruise and remind themselves of their freedom and independence. Although they're capable of touring long distances, their design best suits a one-day or overnight ride exploring back roads. This large, diverse, social group represents the myriad of careers and avocations that keep the tribe functioning.
Trials. Precise, calculated, balanced, athletic, strong and extremely focused. They fill the professional roles in the tribe, i.e. healers, financiers.
Dual Sport. The adventurers, travelers, pioneers. Their high ground clearance gives them a bird's eye view. They're flexible, adaptable and always looking for new opportunities. They act as scouts, sent out to look for new opportunities for their tribe.
Custom. One-of-a-kind, they dare to stand out from the crowd and make a statement. Here are found the artists, the renaissance workers; those who love to express their creativity and are driven by their passion.
Chopper. Every tribe needs someone to challenge the status quo. Choppers are rebels, advocates and activists, speaking out against what they perceive as injustice. They keep the tribe in line by questioning decisions of others.
Sidecar. Their capacity for carrying passengers makes them ideal for families. They're also suitable for passengers who love the openness of motorcycles but prefer the security and comfort from being more enclosed. They're the caregivers of the tribe.
While this has been a tongue-in-cheek look at purpose, the fact is that every human has special gifts and talents to fill a unique role in this life. Using them brings you joy and fulfillment. Listen to your heart. It's never wrong and will guide you on your unique Road.
What style are you?   Leave your comments below.
Related Post:
photo credit: sidewalk flying via photopin cc