Watermelon as Soul Food—Connecting the Past and Present
by Liz Jansen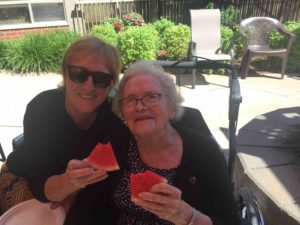 As soon as I opened the notice for the Watermelon Social, I knew I'd have to find a way to go. Yesterday was the day. Watermelons, it turns out, are soul food.
When Dad could no longer care for Mom because of her dementia, we were extremely fortunate to find a room in a long-term care home run by the Mennonite Church. Even better for Dad, it was in the same complex as their apartment and a short walk down the hallway. The home serves traditional food on occasion, an important connection for many of the residents who are first-generation Canadians.
My German Mennonite ancestry stretches back 500 years, with well-entrenched traditions and cultures. These ties were especially important to my grandparents who arrived in Canada as refugees in the 1920s. They arrived with little more than their souls, faith, and rich traditions, like food.
I moved away from the culture in my teens, and it was only two years ago, while on my motorcycle quest in Western Canada, seeking the answer to who I am before my culture told me who I am, that I discovered the relevance of food. I'd found myself in the village of Linden, in central Alberta, a Mennonite enclave. Country Cousins Restaurant in the heart of town, serves home-cooked meals and I was delighted to see Borscht on the menu. With the first spoonful, memories of my childhood, of meals prepared by my grandmothers and Mom, flooded over me.
The Borscht went straight to my soul. It took me back to being a little girl when all was right with my world. It confirmed that the relationship between culture, history, and food is inextricable.
Watermelon is another of those connections. Mennonites cultivated large tracts of them on the steppes of southern Russia and brought seeds with them to Western Canada. Traditionally, they were served with Roll Kuchen, a kind of fried bread, although Mom or my grandmothers never made them. Watermelon, however, was a staple at extended family picnics when I was young, and as such, has a heart connection to my roots.
Mom may have cognitive impairment, but she recognizes soul-food when she sees it. So yesterday was a poignant and joyful event we could share, connected to the past, connected at the heart.