Stop 10 of Virtual Book Tour – Motorcycle Mojo Magazine Facebook Chat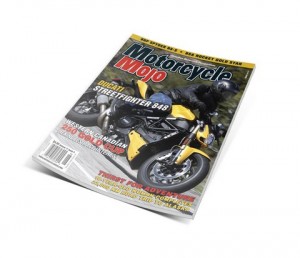 Mojo publishers and founders Glenn and Gwen Roberts are not only friends to all motorcyclists, they have created a fun, cohesive community that welcomes them across the country.  Together with Uwe, Martin, Mark and many others,  they welcome you to share the experience.  If you haven't been to their website or read their magazine, you owe it to yourself to do so!
Today from 4:00 p.m. to 5:00 p.m. EST  they'll be hosting a Motorcycle Mojo Magazine Facebook Chat.
I'll post comments/questions on Mojo's Facebook page and respond as your comments, feedback and photos come in. So log in to FB, head over to Mojo's Page and have your say.
Relevant responses received until noon Thursday June 21st will be eligible for end-of-tour Gift Basket Draw.
With special thanks to Carla King, Motorcycle Mojo Magazine, MadMAPS, RoadRUNNER Magazine and Vavavroom, here's what you could receive.
For full details, see Gift Basket.