Gaila Gutierrez and Tad Haas are two ordinary people who had big dreams of living a life out of the ordinary. They currently reside in the Seattle area and hope to begin planning their next big adventure.
Burned out on corporate America, routine and predictability, they decided to stop dreaming and set their adventurous souls adrift, embarking on a journey of a lifetime in 2012/2013. They quit their jobs, rented the house and took off on their motorcycles for 14 months. Their trek took them over 40K miles through 10 countries with countless escapades, adventures and unpredictable encounters.
That trip was the inspiration for the creation of MotoStays: a growing motorcycle community that promotes and provides access to home-sharing opportunities throughout the world.
Their network provides a convenient alternative to camping and hotels by connecting you with local hosts along your route. Simple & fun.
Listen Now:
Podcast: Play in new window | Download
In this episode you'll learn how to:
Enrich your life experience by meeting like-minded others
Create a safety network while traveling in foreign cultures
Benefit from MotoStays for travel as short as a weekend
Register as a traveler or host—for free
Benefit from a growing motorcycle travel network
Participate in the sharing economy and make travel affordable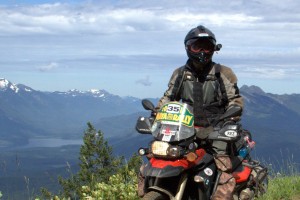 Riding motorcycles and working in the software business are two of Tad's favorite things – starting at the age of 19 for the bikes and 1984 in the tech world. Stints with large corporations and start-ups alike have given him understanding and success in both. Business development/sales, marketing and leadership are key strengths. Product and partner management roles at Microsoft helped Tad gain a very global perspective and understanding of scale. He likes to help others learn to ride/guide and does so through Puget Sound Safety Off-Road (PSSOR) when not out on his own adventures.
Gaila is a life-long Seattleite, with a big heart and loads of wanderlust!  She rides a Yamaha V-Star Classic, and also a BMW F650GS. After spending most of her career in City government; she quit her job 2012 to travel and nourish her soul, which she claims was one of the best moves she's ever made. She now firmly believes that material things are not important, and instead it's the experiences in life that are priceless.  She loves connecting with people, and is excited to continue growing the MotoStays community for the benefit of all motorcyclists!
Tweetable (Click to Tweet)
"Motorcyclists around the globe are not strangers, just friends who haven't met yet." – Tad Haas, MotoStays
"MotoStays creates a safety net of people who can help with language and local culture." – Gaila Gutierrez, MotoStays
Resources :
Watch Now: