What 16 Riders Want More of at Motorcycle Shows
by Liz Jansen
Winter is show season across North America, attended each year by tens of thousands of riders. We asked the readers of Motorcycle Mojo Magazine, "What would you like to see more of at the bike shows?
Check out what they think – and add your voice. Show organizers take notice.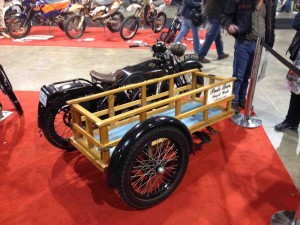 Next  Friday I'll post what they'd like to see less of.
What 16 Riders Want More of at Motorcycle Shows
Photo credit: Motorcycle Mojo Magazine
Roni .C.  A section for swap or trade… a place where you could bring in some of your things that you no longer use or need and have a chance to sell or trade them with someone.
Mark K.  Adventure tour companies and smaller venders.
Brenda B. More accessories for different bikes like seats, lights, etc
David B. Accessories, adventure rider gear, tire company's, oil company reps.
Don E. I would like to see more accessories too, but also more stuff geared toward touring; such as trailers.
Russ C.  I really enjoy the vintage bikes. I think we relate.
Lindsay T. Seminars (for me, racing stuff). Used to go to lots of them.
Lindsay T.  Wider walkways, more garbage cans, areas with seating,
Cliff P. More free MOJo t'shirts ;-P
John C.  Well, coming from a motorcycle shop Motorcycle Enhancements, that exhibits custom bikes, I would love to see more traffic thru Hall 5, the custom area of the show. I can't believe how many people just miss this area completely. Furthermore, I strongly believe that the public would love to see who the awards go to and what bike wins in their category. Wouldn't it be awesome if, while announcing the winners, the public would be able to see a picture of the Bike on a large screen on stage? Oh, just one more thing would also be cool….. A Peoples Choice award! Just saying!  (Liz's note: The Hall 5 comment is specific to one show)
Dianne C. Big name manufacturers selling bike accessories
Suhaymath N.  Continuing my theme from Q1: Demo rides! I suppose that would work best in the spring show…or if there was a show during the summer months.
Sean M. Less helmets and leathers and more vintage bikes and parts
Dave T.  More factory displays and reps. Suzuki has been very absent….
Stuart H. I agree with John, Hall 5 is hard to find, and the floor plan in the magazine made no sense. even the people at the door handing them out had no idea where they were. For me I can't figure out why the Manufacturers aren't at this show? I know they do the December (now moved to February) show, and I love it, I just don't get why they universally boycott this show? History? And while I'm in full rant, the 1/4 dressed young women at 2 or 3 of the booths are an embarrassment. I won't buy Amsoil because of it…
Andrew B.  Is that one of the Poole's collection? [in photo] I remember seeing the Zenith beside their Harley JD hack a few years back at their place. Beautiful machines!