30 Riders Reflect on Winter Hibernation
Although many of us may be questioning whether spring will ever arrive, the calendar tells us it can't be far off – can it?
Think Spring was the theme of last week's chat from Motorcycle Mojo Magazine's FaceBook page .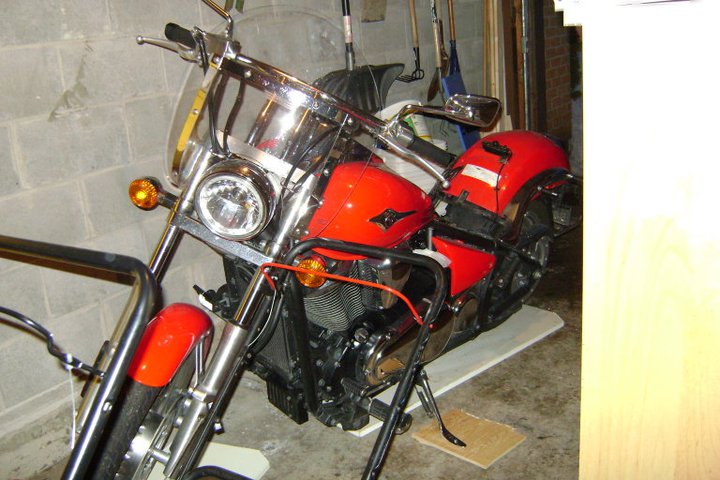 We asked fans, "How long was/has your bike been dormant this winter? What attention have you paid to it?"
30 riders reflect on winter hibernation
Ursula B. Dormant from December 3rd until March 10th and now again until further notice! ( darn fresh snow! Grrrr!)
Joanne C. Mine for 4 months. Polished, gas stabilized, and battery tender on in my basement.
Garry S.  way too loooonnnnnnggggggggg!
Brenda B.  About 5 months and haven't done anything to it except start charging the battery, cause if i do , I'll want to get it out and its way too soon.
Roni C.  The hubby has been working on his… fork oil change, steering bearings, time for a new battery, and a tear apart and check it all…
Mike F.  Sitting on the battery tender in the garage waiting for new tires before the weather gets better
Roni C.  oh… and our last time out was Middle of January!
Noel H.  Took the muffler off and painted it, new drive belt, battery on battery tender in the living room.
Tom M.  Nov 2 – the earliest we've had to put her to bed.
Tim D.  Unfortunately it's been off the road since the end of Oct. Had the tin soda blasted and powder coated, lowered the bike and changed the rear spring. I thought it was going to be a short winter "again" I was wrong.
Annie K. what Mike said.
Grant M.  Bikes! Started my wing last week, the HD sits, poor thing!
Darlene D.  Only the month of February other than that we have been on the road all year.
Don N. Mine has been parked 2300 km north of here (Florida) waiting for May.
Grant M.  Mine's sitting waiting for a buyer. NO time to ride it.
John T.  it is never dormant, I always have it ready to go at a moments notice! Just did Daytona bike week a couple of days ago!
Ron M.  Parked my HW FXWG on November 5th, sadly I haven't done much, just charge the battery occasionally, ..and look at, ..even kept company in the shop some.
Tanya M.  Since Christmas Day. My new fairing is awaiting installation. Battery tender gets unhooked & she already has a full tank of gas waiting to be burned-gotta get the stabilizer out! All I need is GOOD WEATHER!!!
Trevor N. Too damn long. Last ride was in late October. On the 21st of March, we will have had snow on the ground that has stayed for 6 straight months. Great White North is an understatement.
Earl A.  Finished my last ride here in Hfx 17 Dec 12. Rode this month on the 10th, 11th. C'mon spring!!!
Kevin G. Have only been out for a day of riding once in each month of December, January and March. I saw my Shadow before the groundhog saw his !
Heber G.  Dec 23 to mid Feb for the scooter, while the Boulevard stayed in the Garage until last weekend… Unfortunately both are put away for a week or so due to the impending snow storm. Come on spring.
Jeffrey M. I ride year round here with the weather is always wonderful and sunny.
Kate F.  bike has not been out since January…but it's on a tender ready to go if this snow ever leaves.
Life is a journey, enjoy the ride.  Washed, added Stabil to the gas, parked on a 1″ thick plank and covered with a bike cover. She has been sitting like that since early November. The battery died on the last ride so there is no need to put it on the tender. New battery scheduled to arrive this week! And the forecast is looking good for the first ride of the season this coming weekend.
Cory D.  Ashamed to say the only thing I've done is charge the battery and looked at a bunch of pictures from last season.
Tom N. Mine hasn't been dormant at all. I've been riding all winter. BRRR!
Mark-John H.  It sat in the back yard, covered and winterized, for 3 months and 4 days. It's back in the driveway… but waiting for this last round of snow to melt away.
Wayne Jr N. Off the road since October…haven't touched it (forgot to put fuel stabilizer in…oops)…this week is prep time…putting on the trickle charger, oil change, clean & lube the chain so that I'm ready when the weather changes…doesn't help that I am out of town two weeks out of three for work! Mid April this season will start for me…I hope.
Don S.Far too long since November and it's snowing today so for some time yet. Oil is done last and final check to do yet but ready to go. Hey and it was great to see my name in the recent mag under the caption for the hammer ha ha very fun as well as the best bike mag on Earth. Keep them coming I'm a lifer.