Women and Motorcycles: Donna Boudreau Speaks
Women Riders Speak is an interview series with female motorcyclists. Through their stories, they illustrate the transformative role motorcycling has played in their life.
Donna gives her fitness and yoga students the same advice she gave herself once she began riding in mid-life: "Let yourself be new." After successfully navigating through many ups and downs, she credits riding as her source of inspiration and power to do all the other things life asks of her.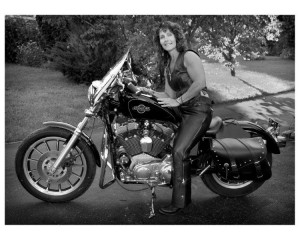 What prompted you to start riding?
I got hooked at age eleven. That's when John, my sidekick, brother and now working man who usually drove a big baby blue Pontiac Parisienne, showed up in our parents' driveway with a motorcycle. Never have I been so thrilled as I was on that ride around a few blocks of our small home town.
Married with a daughter at age sixteen and a son four years later, there was no room for motorcycles until the kids were teenagers. I was overjoyed when my husband got a bike and we had many great rides before the bike got sold and the marriage fell apart.
Money from the settlement bought me a navy blue 450 Kawasaki and paid for the basic rider course. My first ride was across the road, through the neighbour's hedge and back on the street where I regained control – until I hit sand and dumped it. I married a non-rider two years later and the bike was sold.
I put my two kids through college, watched my parents age, my Dad die and my second marriage end. My son and all the new friends I found were riders.
Four years ago at age fifty-one, no longer content to sit on the back and wait to be taken out for a ride, I hung up the vacuum and purchased a Harley Davidson Sportster 1200 that my son had been riding, affectionately naming it "Wich." He's a mechanic so he customized it for my short legs and turned it over to me on Mother's day.
What was your biggest challenge when you were learning to ride?
Even though I repeated the rider training course, I dropped it so many times my son bought a case of signal lights as he was constantly replacing them for me. I stuck with it, sneaking out at supper time when there weren't so many cars on the road, riding the same streets over and over again until I got confident enough to try something new.
By the second season, the butterflies and shakes were starting to go away.
Where have you travelled on your motorcycle?
I live on Georgian Bay and am surrounded by beautiful riding areas so most of my riding occurs locally. There are beaches, waterfalls and quaint, welcoming towns like Creemore for lunch stops. I love riding to Algonquin Park and to Haliburton. I have taken the bike to Louisiana three times.
What impresses you most about another woman rider?
The first woman rider I knew was only about five feet tall, and ninety five pounds. Her confidence taught me a lesson. Riding has nothing to do with size or strength. It's a skill that anyone can learn.
When I see other women riders, I know that we have learned the same thing. There is a tremendous sense of power in conquering something you are afraid of.
That woman has met the challenge and is now enjoying the benefits. Nobody will be telling her she can't do anything ever again. She has proven that she's not too small, too weak, doesn't have enough time, or isn't being selfish or all the other things we hear that keep us from being all we are meant to be.
What is your greatest joy from riding?
It's great to meet up with my friends for a day ride. I love riding with my special friend. Riding with my son is an exceptional blessing.
But on a cool crisp morning and I'm alone, I turn the Wich over and hear that distinctive "tick tick tick" in her powerful heart, I know that there is just she and me, we have no special agenda. I take a deep breath, drop the gear shift into first and feel that special place we are all meant to come to.
How do you look back on yourself as a beginner rider now?
I love life, I'm busy, happy, and always looking for the next adventure. Who'd have ever thought I would end up this way.
My story is dedicated to BOOMUS — my son Ian who build the Wich and watched me destroy her so many times, CLEATUS — my friend Clayton whose quiet humour got me through some rough rides and finally to Raymus — my love Ray whose patience and guidance was with me every step of the way.