Women and Motorcycles: Pam Beatson Speaks
Women Riders Speak is an interview series about women and motorcycles. Through their stories, these women illustrate the transformative role motorcycling has played in their life.
Pam originally shared her story last November.  This July 8th, she was involved in a serious motorcycle accident that left her with, among other injuries, 6 fractures to her pelvis. She now is on a very, very long and arduous road to recovery.
The GLBS (Great Lakes Blues Society) is proud to host a "Benefit for Pam" on October 19, featuring Sugar Ray and the Bluetones. There will be a Silent Auction and a 50/50 draw.
Pam is a huge supporter of the Blues in London and surrounding area and they've come together with a benefit event to try and ease some of her financial concerns. Tickets can be obtained thru the GLBS website (www.greatlakesbluessociety.com) and The Village Idiot.
So gather your friends and come on out to see a great band and support a great cause!!!!!
Pam shared her story last November in a blog interview in the Women Riders Speak series.  Here it is again.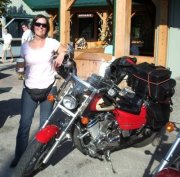 What prompted you to get into motorcycling?
I have loved motorcycles ever since I was a child. I remember feeling enthralled with my uncle's BSA and later Norton bikes. I had my first ride at 15 and badly burned the back of my ankle on the exhaust pipe. That's when I learned that sandals were not a good choice of footwear on a bike.
At 19, I encouraged my boyfriend to buy a Yamaha 650 Custom and then later, an 1100 Special. I loved riding on the back. At 21, I took the motorcycle riding and safety course and learned to ride properly. What a great feeling of empowerment and freedom!
I married a man with a Honda Sabre 1100. When we divorced, my first thought was, "I need to find another man with a motorcycle!" But that thought was quickly replaced with, "Forget that! I need to get myself a motorcycle!!" That was over twenty years ago, and with a couple of exceptions, all of my rides since then have been from the front of the bike, not the back. These days I am having a deep and abiding love relationship with a red Honda Shadow.
What was your biggest challenge when you were learning to ride?
When I first took the motorcycle training course, it was 1981, and the bikes were well-used and wearing out. They were all kick start. My biggest challenge was getting the bike to start! My second biggest challenge was trying to be patient with myself. I wanted to be an expert rider immediately and I would get angry with myself when I made mistakes.
Where have you traveled on your motorcycle?
I have driven many kilometres on two wheels – from Vancouver down the Pacific Coastal highway to L.A., through the Mojave desert into Arizona (Grand Canyon), New Mexico, Utah (Monument Valley), Colorado, Idaho and Montana; from Toronto to Nashville via the Blue Ridge Mountain highway and through the Smokey Mountains; up a canyon highway in Hawaii on a rented Harley and twice to the east coast (Cabot Trail).
I've gone to many beautiful places in Ontario and I also enjoy riding around Stratford where I live, and the surrounding counties, or heading to the beach after work.
What impresses you most about another woman rider?
I'm an intelligent, successful professional woman, but these skills don't do much for me in the world of motorcycling. What impresses me are women who have mechanical ability and can take care of their own machines. Unfortunately, I am not one of them.
What is your greatest joy from riding?
Where do I begin to answer that question? I love the speed, the sense of freedom, being out in nature… I love the silence and that state of being where time feels suspended and the only moment is now. And I love handling my bike and feeling competent. When it feels like the bike and I are one, there is no better feeling.
How do you look back on yourself as a beginner rider now?
I knew that there was a lot yet to learn and that I would improve with experience. I am still watching my progress and consciously working at improving my riding skills. It's a labor of love.