Women and Motorcycles: Sue Field Speaks
Women Riders Speak is an interview series with female motorcyclists. Through their stories, they illustrate the transformative role motorcycling has played in their life.
A chance meeting introduced Sue to a person who would teach her to ride. And change her life. Now, as President of Women in the Wind (WITW) Black Rose Chapter in upstate New York, she mentors other women.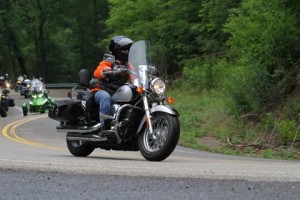 What prompted you to start riding?
I really, really hate regretting not doing things that I want to do. At forty-three, my kids were getting bigger and it was time to do something for ME. I'd wanted to ride since age twelve but my terrified mom talked me out of it.
I tried to talk my nursing colleagues in theOBmother-baby unit into joining me. Although they were excited by the idea, they were on the fence about joining me. Then a patient arrived who changed my life. She was a local third-generation motorcycle instructor and over the course of her recovery, we bonded. She heard how badly I'd always wanted to ride and suggested private lessons. Given the challenges my shift work presented in joining a scheduled class, I jumped at the chance.
Although I kept my accomplishment from my mom initially, she's come to accept the fact that her daughter rides a motorcycle.
What was your biggest challenge in learning to ride?
Keeping the information from my mom! Otherwise, it was learning to use a clutch as I'd never driven a standard transmission. I always knew I could do it and even the pouring rain during my first lesson didn't deter me.
Where have you travelled on your motorcycle?
I have done several hundred plus mile rides, A shoulder injury eight years ago left me with pain and numbness on my left side and limits me somewhat. I'm very jealous of women older than me that can ride clear across the country.
What impresses you most about another woman rider?
The ability to ride hundreds of miles, travel far distances and the independent spirit required to overcome fears.
As soon as I learned to ride, I started looking for other women to ride with. I googled all the women's organizations in the country until I found a chapter of an organization in my area, emailed their VP, chatted back and forth and met her at a local bike night. I joined WITW and in the five years since then, I've held various executive roles and am now starting my second year as President.
What is your greatest joy from riding?
The pride in myself to do what others fear, the self confidence, and the awe from others when they realize that you and your riding group are all women!
Riding a motorcycle is very empowering. Sometimes I feel a bit nervous before I ride. Maybe it's been a long time, or I'm going somewhere I have not been before on two wheels. If I push through that feeling and just go, I'm always fine.
I like the quiet in my head when I'm riding. I get a chance to think; no kids, no demands. I like the smells of the road MOST of the time. I like the thumbs up when other women realize I am a lady too.
I like the fact that I can control this big bike. I was extremely nervous for my first ride as a prospect with my chapter. Positioned at the back of the group, I gave the throttle a twist and let go of the clutch. The bike lurched forward, and went down, taking me with it. I was SO embarrassed. The guys at the back helped me up and only one other woman, also a prospect, saw me. I brushed myself off and got back on that bike and completed my first hundred mile ride – complete with a downpour, thunderstorms and hail. I learned a great deal about myself and control on that ride!
And each ride teaches you more. I'm thrilled to be able to share these experiences and proud of all my WITW sisters!