Women and Motorcycles: Tanya Speaks
Women Riders Speak is an interview series with female motorcyclists. Through their stories, they illustrate the transformative role motorcycling has played in their life.
"When I ride, I don't dissect my past or try to control my future. I just have my breath, my bike and my God." Read Tanya's moving story.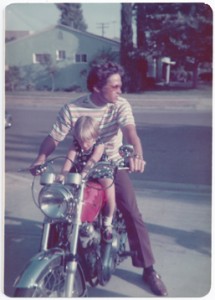 What prompted you to start riding?
I've always ridden: from a children's trike to numerous Big Wheels (I wore holes in the front tires), to mini-bikes to our go-kart to my BMX bicycle.
While attending a conference in Wheaton,Illinoisin 2002, I met a woman from my home  state of Wisconsin (WI) who rode a Harley Ultra Classic.  She invited me to join a small group of girlfriends for a day of riding as her passenger.  After many years of riding dormancy, I was hooked. I wanted to ride my own motorcycle. I took a motorcycle safety class and have been riding for over 10 years.  My life has never been the same.
What was your biggest challenge in learning to ride?
Trusting the bike: leaning and letting the bike do what it is capable of doing.
Where have you travelled on your motorcycle?
Mostly the western part of Wisconsin /Eastern part of Minnesota (MN) along the Great River Road (GRR) from Prescott, WI to Nelson, WI.  I've travelled from St. Paul, MN to Sheboygan Falls,WI, approximately 640 miles round trip. I've ridden lots of beautiful backroads in Western WI off of WI Hwy 35, the western side of Lake Michigan and the northern part of the Kettle Moraine State Forest.
(Liz's note: Carla King has just named GRR one of the USA's Top 10 Motorcycle Roads in her Lonely Planet article. )
Riding from St. Paul, MN to my hometown of Sheboygan Falls, WI. 320 miles one way in one day was the longest ride I had ever accomplished. It felt like I had completed a trip around the world … conquering heat, cold, fatigue and soreness to "go home."  The look on my mom and dad's faces were priceless. My two worlds came together that day; riding with my husband to see my mom and dad and the home I grew up in. That ride really solidified me as my own person, who happens to be a motorcyclist too.
What impresses you most about another woman rider?
Courage combined with a strong sense of riding safety and caring for other motorcycle riders and drivers on the road — giving motorcycle a good name inside and outside our sport.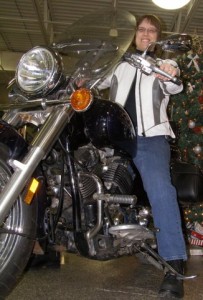 What is your greatest joy from riding?
Feeling free like a child without worries. The peace it brings my soul. Being in the moment. Soaking in the sights, smells and warmth of my environment. Feeling the wind. Cherishing my time alone with God. Riding to a special place to listen to the rolling waves of a lake or river while I rest on the beach; witnessing soaring eagles, hawks and butterflies close up; negotiating tight slow corners through deep forests; following the leaves'  bright hopeful greens to the firecracker reds, oranges and golds of fall, governing the motorcycle's unique power to control and accelerate skillfully through winding hills and valleys.
Motorcycling directs my focus to one thing: riding. While concentrating on riding, I release a lot of worry and anxiety. In this practice of letting go, I am able to listen to my heart and to the Lord who directs my paths.
One of my favorite quotes sums up my greatest joy of riding: "You live more in five minutes on a bike (motorcycle) like this going flat out than some people live in a lifetime." -From the movie The World's Fastest Indian
What's a specific insight has riding given you either about yourself or life in general?
I am keenly aware that my life could be cut short at anytime. While I am alive in this moment, I tune into all the things I am grateful for and that bring joy. When I ride, I don't dissect my past or try to control my future. I just have my breath, my bike and my God.
If my life ended today, I have lived my dreams. I have no regrets.