Readers Write – Robyn Collins
Robyn, a rider  from New Zealand, sent in this story after readying Women Motorcycles and the Road to  Empowerment. As a new rider, she set off on a long distance adventure through spectacular scenery, learning much about riding – and herself. Thank you Robyn for sharing your story.
After years of dreaming …….. in September 2012 I purchased a Yamaha XVS400 cruiser With great encouragement from partner Ken and friend Kay, I set about learning to ride it. Firstly conquering an obstacle course Ken built for me on our back lawn, next advancing to our gravel driveway and then up and down the public gravel road to the tarsealed road. Finally, I was, out into the big wide world!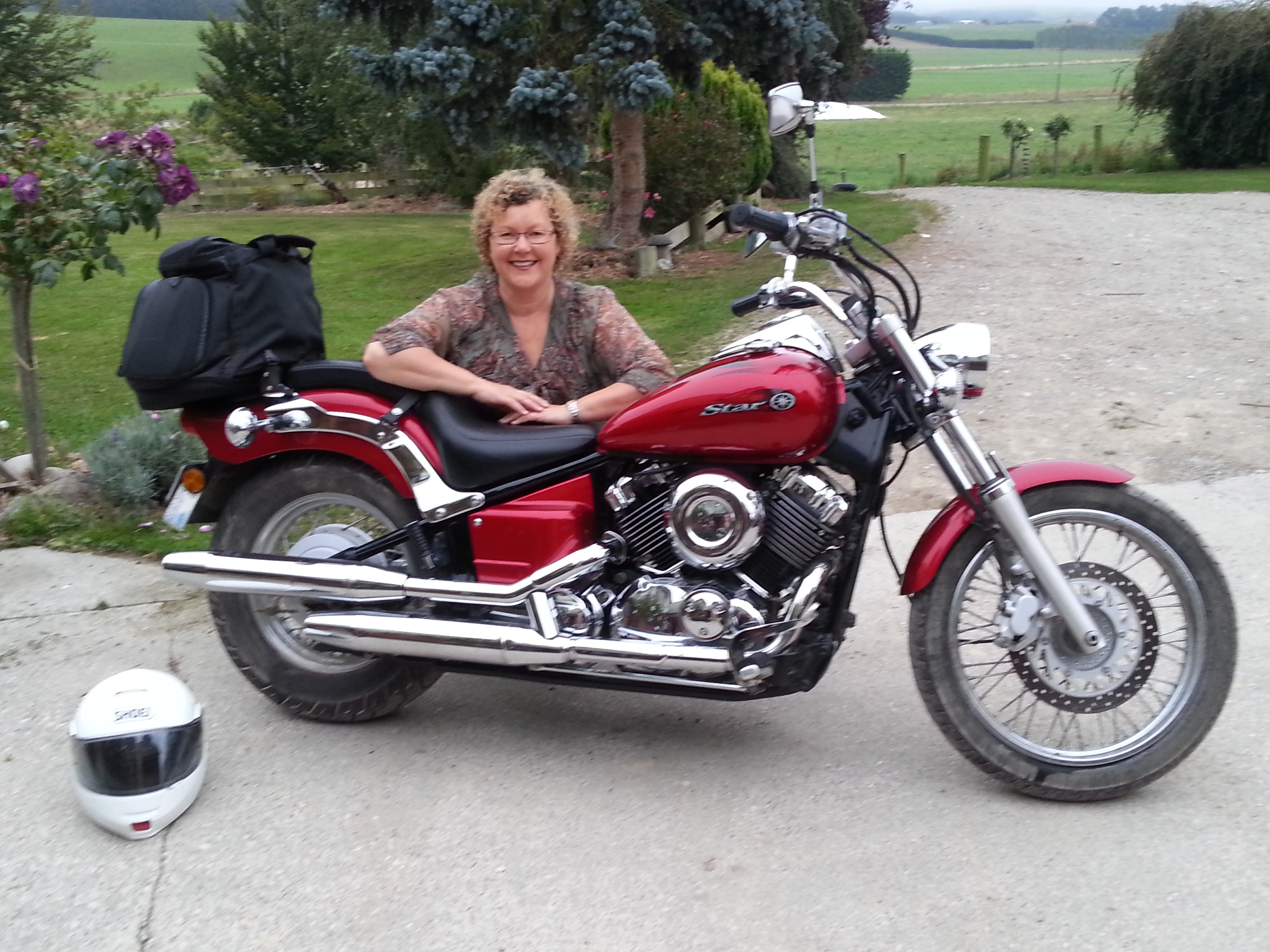 I had moments of terror, tears and thoughts of selling the big silly bike and moving on to the safe hobby of knitting. But overall, I developed this incredible feeling of joy and nothing could wipe the smile off my face and the excitement in my heart. As my confidence grew so did my smile.
I reconnected with friends from High School days, thoroughly enjoyed riding with them and attended a few rallies.
Around Christmas holiday time I found a RED Yamaha XVS650 on the Trade Me website and in the New Year I contacted the seller. Pixie answered the phone and within a minute we had made this lovely connection.
She was delighted that a female rider wanted to buy her bike and I was delighted that she was putting her emotions into the sale of her bike. We chatted for a while and after discussing the idea with Ken, I decided to fly up to the North Island, check out the bike and ride it home if I decided to buy it.
I rang Pixie back and she was delighted with my plans, arranged to pick me up from the airport and invited me to stay with her family on their farm. The next day I caught my flights and 4 hours later I was shaking hands with the delightful Pixie, a sprightly, strong, warm, friendly blonde with tanned legs in Daisy Duke shorts!
We headed back to their farm and I met Robin, her equally friendly husband. Pixie and I went for a ride on my new beautiful red Star. After a great evening getting to know all of the family I discovered that Pixie's daughter Lucy knew Ken's niece through studying at Massey University together. I love this small world.
I had a great night's sleep and the next morning Pixie informed me that they would like to ride with me for a day on my journey home. I was delighted with this news as I had never travelled through the central North Island and they were both such good company. They were pleased to join me and have the excuse to take a few days off their farm.
As I was still on a learner's permit, they were also keen to see how I rode  and make sure the bike was ok for me. After a great day of riding and lunch at Lake Taupo, we ended up in Napier, where we enjoyed dinner and a lovely chatty evening together.
Later that night I had just settled into my luxurious bed in our 5 star hotel (a treat) when suddenly music started up outside my room in the foyer bar and a party swung into full gear. I tried to sleep but after 10 minutes realised it was too loud and they might just party for hours! I rang reception,packed up all of my gear and moved to a room in the other end of the hotel.
The next day after a wonderful complimentary breakfast from an apologetic manager, I headed south and Pixie and Robin headed back north. Napier was gorgeous and I was sad to leave my newly found friends.
There I was, all on my own, off to Wellington, enjoying the new surroundings and the feeling of my new bike beneath me. The extra power of my 650 Star was exhilarating and I felt alive…. and free!
I had a wonderful ride exploring a new area, travelling south to the end of the island to catch the ferry across Cook Strait. After a full day's ride, I was a bit puffed by the time I boarded the ferry.  Thankfully several gentlemen on all-terrain bikes helped me tie my bike down. They offered warm camaraderie and lots of good advice on windscreens and luggage, and made sure that I rode off the ferry and got to my accommodation safely in the dark.
The next day I felt like I was nearly home. I was in the South Island and knew my way! An hour after starting out in warm sunlight, I rode into a southerly blizzard of sleet, hail and rain. I put my good wet weather gear on but the first two layers quickly became drenched. Because I was going so slowly, the rain was coming inside my helmet making vision even more challenging. Although I was warm enough, I was pretty wet and shattered when I finally pulled up to the backpackers in Kaikoura.
I had ridden around town until I found a central Backpackers where I could rest and dry my gear. I could also walk to the shops and explore the area under cover. To pass the time, I booked in to a beauty spa to have my eyebrows and eyelashes dyed, so that I looked stunning under my helmet of course. I planned to leave early in the morning so I retired early to have a good night's sleep.
I was just snuggling up in my budget but comfortable bed in the centre of town, and much to my horror, a band started to play across the street….. it was truly funny and one had to laugh!  No calling reception for this biker tonight and moving to another quiet room in this Backpackers. To add to the evening's entertainment, my face swelled up like a puff ball with an allergic reaction to the expensive cream they put around my eyes.
The next morning I set off, thankful for my helmet, enjoying my ride as the sun rose to produce a wonderful clear sunny day. The road wound around the coast and each corner opened up wonderful vistas that filled me with joy.
On reflection, even when riding through the hail and sleet the day before, I didn't have any real fear. Years of skiing and snowboarding in blizzard conditions must have prepared me. I was very wet, but exhilarated, very much alive and connected to my surroundings and nature, as I concentrated on limping slowly towards Kaikoura.
After a fabulous ride in the sunshine, I stayed that night with special friends in Timaru. Tony has Motor Neurone Disease and his wonderful humour and love for the people in his life always inspires me to remember how precious our lives are and how fragile we all are.
Riding off from there the next day, on my beautiful red bike, I vowed to seize the moment and live it to its fullest; to surround myself with the people I love —  family, friends, and newly met strangers who quickly become friends.
Five and a half days and 1506 kilometres later, home was in sight. I travelled up my gravel road (oh how easy you are to ride Mr Gravel Road), up my bumpy gravel driveway (oh how I laugh at the memory of your terror) past the lawn of obstacles (oh give me a dime to turn on) and into the welcoming arms of my darling Ken.
"So how was your trip hunny?"