Long Road Home Tour: Winnipeg Events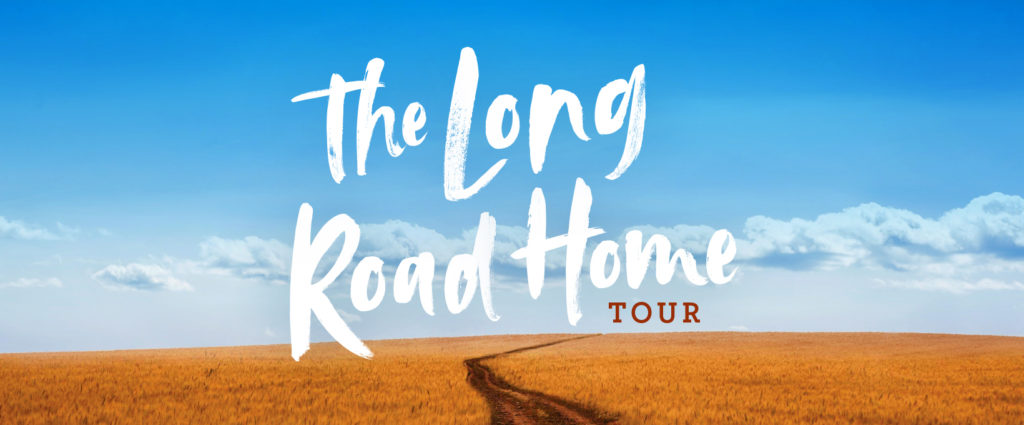 The Long Road Home tour, celebrating the launch and life of Crash Landing, Liz Jansen's widely acclaimed new memoir, moves to Winnipeg at the end of September for three events.
Thursday September 26, 7:30 p.m.
Presentation and Book Signing at McNally Robinson
Join Liz in an evening of stories inspired by Moto-travel on her Ancestor Trail. At age 60, she set out on a year+ long quest to understand how the experiences of her Russian Mennonite Ancestors shaped her. Three weeks later she crashed in rural Alberta, sustaining significant injuries and totalling her motorcycle. But that was only the beginning of a life-changing journey. She completed it two years later with a new motorcycle and a wonderful ending.
Engage in stories of adventure—both on and off the motorcycle. Change the way you look at the stories you carry. Bring your own vehicle, baggage, and beliefs.
Books are now available for purchase in store or online.
Friday, September 27, 7:00 p.m.
The Stories We Carry Workshop, McNally Robinson
Free yourself of who you were told you were so you can be your best at who you are.
The stories you were raised with shaped you and continue to operate in the background without your knowing. You have the power to change those that no longer serve you (note: perhaps these stories did serve you at one time!) and write life according to your own script.

Through storytelling, drumming-facilitated meditation, and journaling, you'll take a look at the stories that have shaped you. You'll learn how to choose what to take, what to leave behind, and what else you need to make the most of your life's journey.
Tuesday, October 1, 7:00 p.m.
An Evening with the Authors at Mennonite Heritage Village
Plan to join Liz and authors Beverley Kornelsen and Marilyn Dueck on Tuesday, October 1, 2019 for a wonderful evening of reflection and insight into the three books being featuring as part of Mennonite Heritage Village's Evening With The Authors.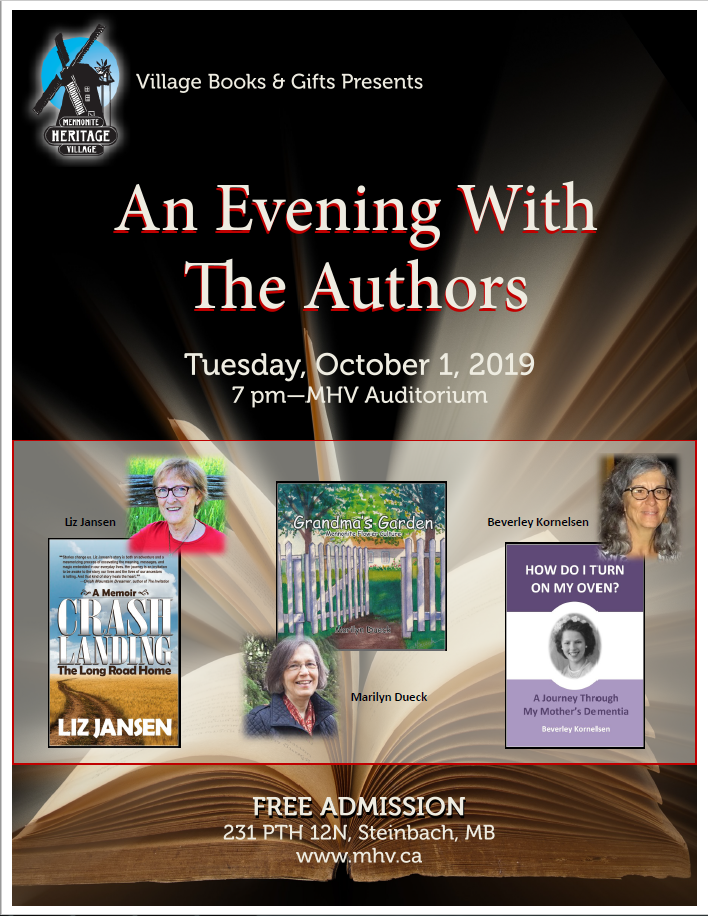 2019
Check out these confirmed dates for Author Presentations and Workshops on the Long Road Home book tour and plan to attend an event near you! Please register. Author presentations are free and while not necessary, registering helps us stay organized and know how many books to ship to venues. You will not be added to my mailing list. However, if you'd like to receive weekly engaging newsletters, subscribe here.
August
August 8, 7:00 p.m.: Author Presentation and Book Signing, Latus Motors Triumph, Portland, OR Register.
August 13, 6:00 p.m.: Travel Lightly Workshop, Two Stroke Coffee Co., Portland, OR Register
August 14, 7:00 p.m.: Author Presentation and Book Signing,Triumph of Seattle, Seattle, WA. Register
August 22, 7:00 p.m.: Author Presentation and Book Signing, Island Motorcycle Company, Victoria, BC Register.
August 28,7:00 p.m.: Author Presentation and Book Signing, International Motorsports, Langley, BC
August 30, 10:00 a.m. to 1:00 p.m. The Stories We Carry Workshop, Trev Deeley Motorcycles, Vancouver, BC
August 30, 2:00 p.m. to 3:30 p.m.Author Presentation and Book Signing, Trev Deeley Motorcycles. Vancouver, BC
September
September 9, time TBD; Beaverlodge Library, Beaverlodge, AB
September 9, 5:30 p.m. to 7:30 p.m. Motorcycle Mondays, Grande Praire, AB
September 12, 7:00 p.m.: Author Presentation and Book Signing, Owl's Nest Books, Calgary, AB
September 19, 6:00 p.m.: Author Presentation and Book Signing, Blackfoot Motosports, Calgary, AB
September 26, 7:00 p.m.: Author Presentation and Book Signing, McNally Robinson, Grant Park, Winnipeg, MB
September 27, 7:00 p.m.: The Stories We Carry Workshop, McNally Robinson, Grant Park, Winnipeg, MB
October
October 1, 7:00 p.m.: Author Presentation and Book Signing, Mennonite Heritage Village, Steinbach, MB
October 8, 7:00 p.m.: Author Presentation and Book Signing,Clinton County Motorsports, Cincinnati, OH
October 11-13: Author Tent, Overland Expo East, Arrington, VA
October 26: Niagara Leadership Summit for Women, St. Catharines, ON