The Joy of Solo Motorcycle Travel Webinar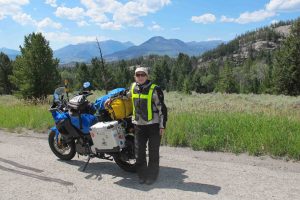 NOTE: June 22nd event has booked up. Due to popular demand, a second date has been added on June 28th, 7:00 pm to 8:00 p.m.
This is the first webinar I've hosted since crashing almost two years ago, ironically, on a solo motorcycle trip. Gratitude goes to the Women in the Wind (WITW) Georgia Peaches Chapter, who requested this event and topic—the Joy of Solo Motorcycle Travel—as part of their ongoing learning program, specifically in June, their safety month. I love doing these events and this was the nudge I needed to get started again.
After ten months of recovery and being away from riding, I was eager to get back in the saddle. Getting back on the bike was daunting, but never in question. A solo trip to Northern Ontario was uplifting, enriching, and strengthening. I've recently returned from another short solo trip and am planning a longer one to Western Canada later this summer.
This live webinar will take the form of a video fireside chat, with opportunity for participant questions and interaction.
While it's important to know how to pack, manage and maintain your motorcycle, we'll focus on the more personal aspects of solo travel. We'll then show how the strengths you build from solo motorcycle travel are transferable to other areas of your life.
We'll cover:
Pros and cons of solo motorcycle travel
Common fears (and what to do about them)

Low confidence
Dealing with mechanical breakdowns
Accidents
Getting lost
Loneliness
Personal safety and security
Motorcycle safety and security
Accommodations
Dropping your motorcycle
Illness

Why the joy of solo travel is far greater than all those fears collectively!
Applying lessons to non-motorcycle life
Learn how to change the stories about how you view solo motorcycle travel and it will change your life!
Date & Time:
June 22, 2016, 7:00 pm to 8:00 pm ET. NOTE: This date is fully booked s a 2nd date has been added.
2nd date: June 28, 2016, 7:00 pm to 8:00 pm ET.  The Registration Button below will take you to this date.
Format:
The first 30-40 minutes are listen only. You can listen via the webpage or phone.
The last 20 – 30 minutes is an opportunity for live interaction and for you to ask questions. You will need to be connected through your phone or computer camera/mic to participate.
Unable to attend live? This session will be audio/video recorded and available to all registrants.
How to register:

Registration is limited. Act now!
The access link will be sent closer to the event date.