Media
Crash Landing by Liz Jansen
Published by Trillium Wordworks
Quick Description
Author and motorcyclist Liz Jansen brings readers on the adventure of a lifetime—no helmet or jacket required.  She shows how life's unexpected and potentially devastating detours lead to new roads, connections, and learning to follow the signs pointing home.
Everyone crashes. How you respond can keep you bound by your wounds or it can birth that part of you that's been trying to break out and express who you really are. Whether your crash is caused by a relationship ending, job loss, or a health crisis, Crash Landing guides you around obstacles and through challenges as life wakes up.
Synopsis
As Liz Jansen approached her sixtieth birthday, she was driven to understand how the experiences of her German Mennonite ancestors, who'd arrived in Canada as Russian refugees almost a century earlier, had shaped her. Seeking answers, she got on her motorcycle and set off across the country on what she dubbed the Ancestor Trail—the places they'd lived as they established themselves in a new land.
Three weeks into what she'd expected to be twelve to eighteen months on the road, she experienced a catastrophic crash that threatened to sideline her quest. Instead, the ensuing time of uncertainty and stillness led her deeper into her journey.
The stalwart faith and community that had sustained her ancestors through perilous times, had terrorized and almost suffocated her, leading her into what she described as a life of mediocrity. Inherently, she knew that the answers to how those experiences had influenced her beliefs and life choices, lay in delving into her distant past. To move forward, she had to look back.
Crash Landing is a compelling, adventurous, and poignant personal narrative of healing, showing how the heart always knows the way home.
Scroll down for:
Endorsements
Author bio
Purchase links
Hi-res images of book cover and author
Suggested interview questions
One sheet
Back Cover Endorsements
"Stories change us. Liz Jansen's story is both an adventure and a mesmerizing process of excavating the meaning, messages, and magic embedded in our everyday lives. Her journey is an invitation to be awake to the story our lives and the lives of our ancestors is telling. And that kind of story heals the heart." ~ Oriah Mountain Dreamer, author of The Invitation
"Liz Jansen brings a rich vitality to several generations of ordinary people who become extraordinary through her painstaking research and beautiful writing. The Ancestor Trail is a journey with a difference: part road trip, part spiritual exploration, and part self-discovery, it answers questions that lie within all of us. I'm so glad she was able to overcome its many challenges to close the circle and tell this story." Mark Richardson, author of Zen and Now, editor of Canada Moto Guide
"Made me want to hop on a motorcycle and travel not only 'cross country but deep into my own spirit." Joan Dempsey, award-winning author of This Is How It Begins.
"This is today's version of Zen and the Art of Motorcycle Maintenance if the book had been written by a sixty-year old woman with a bladder infection who had a great knack for crashing. Liz Jansen isn't your typical rider, nor is this your typical self help book. Jansen will do whatever it takes to heal herself, and the result is compelling, startling, and fun." Alexandra Shimo, author of Invisible North
"Warning! Crash Landing is an emotional tour-de-force that may drive you to explore your own Ancestral Trail. BYO vehicle, baggage, and spirit guides! Jansen's meticulously-researched historical account of her Mennonite grandparents' exodus from Bolshevik Russia to the farmlands of Canada is a captivating journey through history and its effect on generations to come. Crash Landing demonstrates the power, drive, and generosity of the traveler and those she encounters to pass through any obstacles on a healing journey." Carla King, author of American Borders
"In a time when many seek adventure in unfamiliar corners of the world, Jansen proves "coming home" is more than just a destination—it's about unveiling the ancestral influences that echo through time and highlight the generational and personal crossroads that lead to who we are today. You'll relate to every mile of Liz's journey." Susan Johnson, Horizons Unlimited
Author bio
Niagara native Liz Jansen was born into a German Mennonite culture, the granddaughter of Russian refugees. Since she began riding a motorcycle at age sixteen, she's logged hundreds of thousands of miles of mostly solo riding across Canada and the United States. While Liz enjoys the rugged beauty of Ontario's northern wilderness, she has a particular fondness for the open expanses of the Canadian prairies and Midwestern plains.
Liz is a member of the Writers' Union of Canada and the Non-Fiction Authors Association. Crash Landing is her third book. She lives in Orangeville, Ontario with her cat, Measha, and Trudy, her Triumph Tiger motorcycle.
Purchase Information
Crash Landing is widely available in print or digital formats at all online retailers and wherever good books are sold. 
Purchase links
ISBN: 978-1-987853-08-7
Print Copies: $19.95 CAD/$15.30 USD
Ebooks: $7.90 CAD/$5.99 USD
Images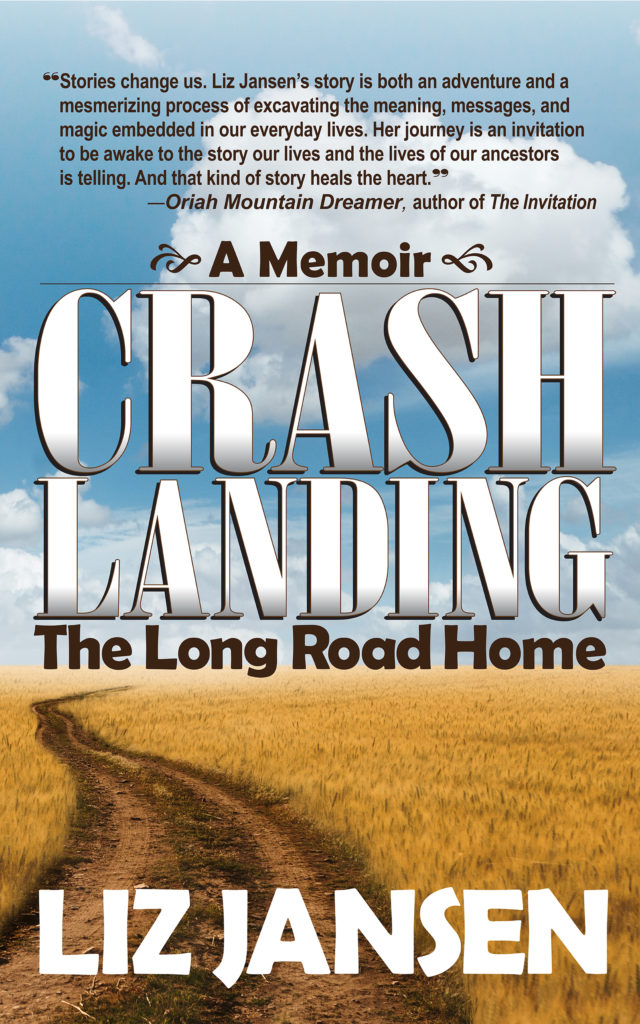 Suggested Interview Questions
Why the title Crash Landing?
You talk about your Mennonite ancestors, their culture and history, and significant life experiences. What/who is a Mennonite? Are you a Mennonite?
You've been riding a motorcycle since you were sixteen. What role does the motorcycle play in your life?
Leaving your marriage followed shortly by your corporate career in 2002/2003 were dramatic life changes. What prompted them? How did they affect your perspective?
It takes courage to sell off your things, get on a motorcycle, and take off across the country. Where does that come from? Weren't you scared?
You experienced a traumatic event, significant injury, and wiped out your motorcycle. Where you ready to stop riding? Did you think your quest was over, or at least deferred?
When you set out in 2014 to travel through the Americas and understand who you were beneath all the cultural roles and expectations, what were you hoping to find? Did the answers come as you expected?
How has the journey, and the writing of it in Crash Landing changed your life?
How has your family responded to Crash Landing?
What do you recommend for people who are thinking of initiating a healing journey, or those who are navigating through a "crash" aftermath?