Preparing Your Motorcycle for Travel Webinar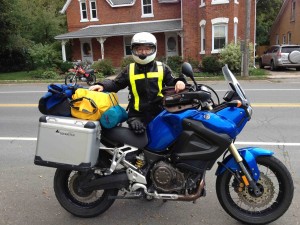 One of the greatest fears that surfaces around traveling, especially solo travel, is that of breaking down in the middle of nowhere. It's wise to be aware that breakdowns can occur, but it's even better, to know that there are some easy, proactive steps to take before you leave, that minimize the chances of that happening.
While it would be nice to jump on your bike whenever you wanted to and go for a carefree ride, without having to do more than don your gear and put gas in the tank, that's not realistic. Motorcycles are machines that wear with use. Fortunately modern motorcycles are precision built to high standards, but that doesn't mean we should be complacent with them.
Our safety depends on all the components working together, even if we don't know exactly what they're doing. We do know that cables, brakes, tires, and engines wear, and depending on how much wear has occurred, we could be putting ourselves at risk without even knowing it.
A little know-how can go a long way in keeping you safe, your bike roadworthy and your ride stress free.
Who should attend:
Anyone who is preparing for a moto-vacation
Anyone contemplating solo travel
Anyone interested in learning simple cost-saving steps that increase your safety and your riding enjoyment
Anyone interested in having more of your circumstances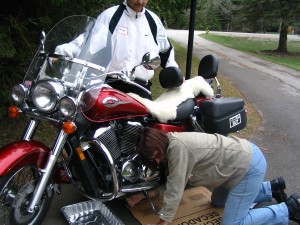 In this online course you will learn:
Why it's so important for your safety to have a very basic understanding of your bike
How a little knowledge builds a lot of confidence
Easy preventative steps that can save tons of trouble on the road
How to do a step-by-step inspection of your motorcycle
What to look for that could mean trouble
How to decipher your owner's manual—easily
How to determine if your bike is set up properly for travel
How to decide what maintenance to get done before you leave
How to plan for maintenance you'll need on the road
What tools to bring along
How to plan for the unexpected
Where to find additional trustworthy resources
And much, much more
Course Structure:
30-40 min. webinar
followed by 20-30 min Q&A via live chat
live chat throughout webinar
Date and Time:
Thursday May 22, 2014
8:00 p.m. to 9:00 p.m. EDT
Video replay is available to registered participants for 5 days
Audio MP3 recording is available for download to registered participants
Handouts