by Liz Jansen
Listen, chat with, learn and get inspired by Joan at the Power of the Road online conference, April 7 to 11, 2014.
Joan Krenning, aka Lady Road Dog, has loved to travel for as long as she can remember. Her first solo road trip from North Dakota to Colorado at age 17, was the beginning of what would become her first million miles of travel in the United States. Already loving the road, that pull intensified when she got her first motorcycle in 1986.
Her road, however, was about to get rocky. A series of bad decisions landed her in prison. Released in December of 1989, she was 35 years old, a convicted felon, recently widowed, newly sober, a mother of 2 young boys, and facing a tremendous uphill battle getting back on her feet.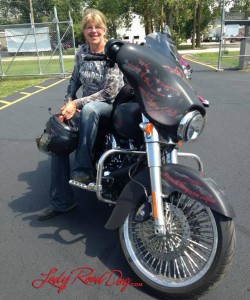 She had her strength, a motorcycle and an idea. "I'll sew some stuff and take it to swap meets." Such were the humble, precarious beginnings leading to the formation of Design Wraps Inc.
Her beloved motorcycle was sold to raise cash to purchase raw materials needed to create products. Fueled by a vision, steely determination and a healthy survival instinct, the next thirty years were characterized at various times by triumph, tenacity and tragedy. The road became her home, taking her to events and people across the United States and even into Canada. Always in a car.
She missed riding. Moreover, she was increasingly concerned about her country and the bipartisan bickering she witnessed. In 2012, she resolved to do something about it. Thus, the seeds for Lady Road Dog and the Freedom Ride were sewn.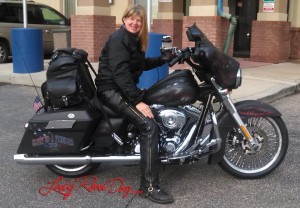 She purchased a new denim black Harley-Davidson Street Glide and began planning a trip that over the next 36 months, would take her to every Harley-Davidson dealer in the US. She was on the road anyway; it was time to move to two wheels.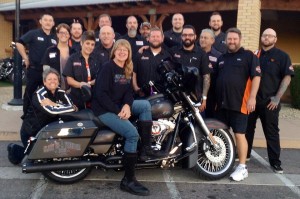 But the message was far greater. She would wrap the bike in the graphics of the Constitution, using it as a focus of conversation wherever she went.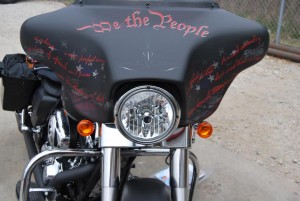 Joan's intent is to focus Americans on the higher values upon which the country was founded and end the polarization that threatens its fabric. She recognizes the role of her motorcycle in enabling this movement. "If I was in a Ford Focus wrapped in the graphics of the Constitution, no one would care. Or do you think it would be such a big story if I was on a crotch rocket?" But people are receptive to a 59-year-old woman, clad in black leather, wandering alone around the countryside on a Harley-Davidson, on a mission of hope and change.
Also germinating were the seeds for a Steel Horse Sisterhood Summit designed to broaden the skills, knowledge and experiences of women motorcycle riders across the globe. This dream will be realized in May when the first summit, is held in Denver, CO.
You can stay in touch with Joan through her Lady Road Dog website or by following her on Facebook. Twitter or Pinterest. If possible, acknowledge your support by meeting her at one of the many events she'll be attending as part of the Freedom Ride.