Crash Landing Reader Reviews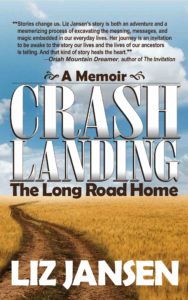 Here's a sampling of comments about Crash landing from readers:
From Readers via email:
"I just want to tell you Liz how much I enjoyed this journey. I felt like it was me, the Mennonite girl from Yarrow. I understood your quest to venture through our history not only to enlighten yourself but to understand who we are as a result of our background. I felt in "sync" with you, internal thoughts and questions and it just was such a delight to read your book. Thank you for writing it."  Dolly P, BC
"Just finished reading Crash Landing. I was totally immersed in your story, a profound and incredible life journey.
Knowing you only from the occasional brief times we met at motorcycle events I would never have imagined your background. If we meet again I would enjoy getting together with you to share stories. I could say to know you better but now, in some ways , I probably know you better than I know myself. Dieter Eberhardt
"I am 2/3 finished your book and am really enjoying it. I feel that I am on the journey with you – your descriptions and reflections are shared with the reader through head and heart. It's nice to get to know you! Such a life you have created for yourself. The questions that you ask yourself, some of which I have asked myself, cause me to be eager to pick it up again." Judy Chapman
"Crash Landing" takes us on author Liz Jansen's personal quest for self-discovery. Buffeted by her struggles with her religious upbringing and stereotyped career and marital roles, Liz finds her identity and a sense of meaning, purpose and legacy. Themes of her grandparents' arduous journey from war-torn post-Czarist Russia and their difficult re-location in Canada are intricately woven with Liz's own trek down her "Ancestor Trail".  Very well written and very heart felt." Linda Epp
"I had the privilege being one of the first to read "Crash Landing" and I thoroughly enjoyed the book. The book tells the story of a road trip taken to discover her heritage and herself culminating in the healing of her spiritual self. The book is so well written it was as if I were along for the journey. Makes me want to get on my bike and experience the same sort of adventure, figure out who I am and ultimately gain spiritual healing." Chris Hadden
---
From Amazon.com, Amazon.ca, and Goodreads:
"I had heard of Liz through some of the motorcycle events in our area but I had never met her. This book was gifted to me at Christmas. I honestly started the book because of the motorcycle. I finished the book in two days because of the Amazing journey." David Laye, 5 star
---
"Couldn't put it down. Loved reading about Liz's journey to discover more about her grandparents. Her adventures take place on her motorcycle and I felt like i was there with her. Riding alongside her. Camping by the fire. Walking through the prairies in the footsteps of her ancestors. While we are passengers along for the ride on Liz's quest, we get to discover a little bit about ourselves as well. A must read adventure." Michelle Landry 5 star
---
"In this well-written memoir, author Liz Jansen — an avid motorcyclist — takes on the idea life is about the journey, not just the destination. Part travelogue, part a life history, part inspirational and self-help book, and part historical chronicle, the author's sweeping and life-affirming story explores several important and hearty themes, including self-discovery, facing fear, and finding one's self. A story can easily fall apart from the pressure of tackling so much, but as one would expect of a skilled motorcyclist, the author has an instinctive sense of when to switch gears, and as she takes us on a winding journey along the "Ancestor Trail," she deftly weaves together these themes into a coherent tapestry that leaves the reader feeling positive and hopeful.
In sum, "Crash Landing" is a sincere and authentic memoir with an adventurous spirit. It successfully blends a road trip with historical fact, spiritual self-discovery, and a dash of magic. The resulting book is as lovely and unique as the woman who wrote it. Highly recommended for fans of memoir, those looking to tag along on a special journey of self-discovery, or for anyone who just wishes to spend a few hours with a great and potentially life-changing book."  JenLuvs2Run 5 star
---
"I just love Liz Jansen's style of storytelling. She writes with openness and authenticity that gives an interesting story an immediacy and honesty that is inspiring. Her journey to revisit her roots solo on a big and powerful motorcycle was never going to be easy and yet despite the odds and big setbacks, she does it. A road trip, a family history and an account of facing adversity with courage, I thoroughly enjoyed it." Bev Newman 5 star
---
"As a avid motorcyclist myself I enjoyed reading Liz's book about her travels and search for her ancestral heritage. She offers a lot of insight about herself in search for understanding about where she comes from and how ones values come down your family tree. I enjoyed reading about her determination into seeking her roots and piecing the clues as they unfolded. It's a well thought out novel and it's well worth the read."  Harley Mark 5 star
---
"Fast moving and introspective read written by an inspiring woman motorcycle rider! Beautiful tale about her journey to find her roots no matter what curves along the road! The book brought me to tears at times, running out to my motorcycle to go for ride at other times and always cheering Liz on as she uncovered her ancestry!" Seize the Bay – 5 star
---
"A wonderful book of travel and self-discovery. "Crash Landing" is not only a story about the physical, mental and spiritual crash but the journey and the experiences to landing on the other side.
An inspiring story of physical, spiritual and emotional struggle. Readers will be captivated by this fascinating adventure.
The writer shares her heritage and discoveries. Bringing her readers along on her journey." Sue Zarubiak 5 star
---
"All of Liz's work and her writings resonate with me on so many levels and Crash Landing was no exception! Her ability to capture emotions and thoughts and articulate them never ceases to amaze me. The journey of self-discovery is a road we all travel, complete with best laid plans that go awry, the awesomeness of the unexpected and outcomes we couldn't possibly have anticipated….Crash Landing is chock full of all those and some pretty powerful revelations. Thank you, Liz for doing what you do—your work inspires me!" Amazon customer, 5 star
---
"Crash Landing the Long Road Home" is a beautifully written, easy to read memoir of a woman who seeks understanding through travelling to the same places her Mennonite grandparents lived after fleeing the Bolshevik Revolution in Russia. She takes their lessons of hardship and misadventure to guide her on her own path towards her genuine self. Self-reflective and adventurous, this is well worth the read." T.D. 5 star
---
(excerpt from Amazon) "It's a journey of self-discovery for Liz Jansen. It happens on and off a motorcycle. And you're on the ride and the discovery with her.
Liz digs into her past and finds how her history is changing her future. She rides Western Canada – along the path her immigrant grandparents took – walking the fields her family tamed and plowed. She finds the old homestead, with the help from some of the neighbors she met in the area. She even finds the cemetery where her grandfather was buried, he left behind a a young wife and a two-year old son – Liz's father.
Our journey in life is a series of stops and starts. It is focusing on looking ahead while pausing to look back for memories, for lessons and for perspective. This is Liz' journey. She invites you to go on the ride of her lifetime. And you don't even need a helmet or a leather jacket." Pamela Klug, 5 star
---
"I read Crash Landing cover to cover as soon as I got it! Liz's journey to discover more about herself through exploring her heritage is a real paradigm shift from other memoirs I have read. Revisiting the places where her ancestors rebuilt their lives, giving voice to some of the struggles and triumphs they experienced, and reflecting on how those experiences shaped the next generations was truly thought provoking. I love how she brought her grandparents and spirit guides along for the ride – they added such a unique perspective and narrative to her journey down her Ancestral Trail and it sounds like they did a great job keeping her company on this long, solo (or not so solo) ride.
Makes me wonder how many other untold and amazing stories are floating around out there!"  Mary, 5-star
---
"As a newer motorcyclist (4 years going on 5), "Crash Landing" adds more information to my "files". It's a refreshing look at how life throws "twisties" at you and how to overcome them and not let them stop you on your journey. I highly recommend reading this even if you are not a motorcycle rider. You can always learn something new and reading any of Liz' books and "Crash Landing" in particular you'll definitely learn that giving up is not an option!" Claminator, 5 star
---
"CRASH LANDING The Long Road Home is a very enjoyable read. The text fits comfortably into several different genres. As an adventure rider, I was delighted to read Liz Jansen's description of her meandering ride across the windswept Canadian prairies. On the other hand, as a person constantly in search of more information about my roots, I found myself empathizing with the frustrations and celebrations of her search. Jensen's story makes me want to hop on my bike and make a similar quest. If you are searching for your roots, or for a reason to take a road trip, CRASH LANDING The Long Road will provide the inspiration." Nora Crady 5 star
---
"It began as a journey to explore her roots, and became an experience in getting to know her ancestors at a much deeper spiritual level, but more importantly getting to know herself better to answer that question of "why am I here?"
I found myself travelling along side her ancestors and spirit guides in her descriptive journey and recalling similar quests of my own when I traced my own roots. I related to that powerful moment when she stood in a remote cemetery field in Beaverlodge, paying respect to her ancestors and wondering about those individuals who tried to tame the land in the early years of Canada's existence.
For anyone on a quest to find themselves or their roots, you will enjoy the journey along with Liz, her ancestors and spirit guides."  Karen 5-star
---
(excerpt from Amazon) "One journey is religious identity. Liz's maternal and paternal grandparents arrived in Canada as religious refugees from Russia, and their Mennonite identity was the core of her upbringing. Many readers will resonate with her heartfelt struggle to simultaneously keep family members close while distancing their fundamentalist beliefs.
Another journey—bound up with the religious one—was embracing the person she truly is, even though that meant leaving behind a career, marriage, and world view that no longer served her.
Yet another journey was tracing by motorcycle what she calls the "Ancestor Trail" of her family in Canada. She felt that her ancestors' fears had imprinted on her DNA even though she'd had nothing to fear in her lifetime. The only way to exorcise that imprint was by taking a spiritual quest and connecting as best she could with her ancestors' experiences and the wisdom of the lands that had hosted them." Tamela 4 star