Podcast
Wheels  to Wisdom Weekly Podcast
with Liz Jansen
Please note that due to my motorcycle accident while on the Wheels to Wisdom quest, I've stopped the Podcast. But it doesn't mean the quest is over. Quite the contrary. This is but a detour and it continues in a different format for the time being. Stay tuned!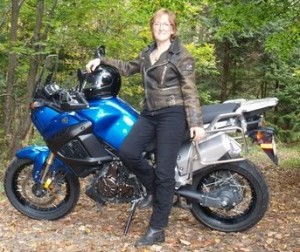 This podcast series will follow a personal quest I'm taking on my motorcycle, through North, Central and South America. Each week, I'll interview experts on topics relevant to my experiences, covering all perspectives of the trip, including:
Travel experiences from the areas I'm passing through
Experiences relevant specifically to the motorcycle aspects of travel
Insights from the spiritual quest, including those gleaned from exploring indigenous wisdom across both continents
While I'm getting around via motorcycle, the trip is more about reconnecting with the deeper wisdom we share with all other beings. That's why I'll be visiting Native American Elders and Wisdomkeepers to help remember who we are before we're shaped by our culture and environment. It's also why I'll be researching my own Mennonite ancestry and observing the influence it's had on me, and the generations who have preceded me.
All this is designed to learn how to breakthrough the limitations of our past and present, so that we can live the vibrant and meaningful life we're meant to live, in a way that's mindful, in balance, and sustainable. I'll be sharing all those key strategies with you so you can apply them to your own situation, and get past the obstacles so you can live the life you were meant to live. Don't just dream it. Do it!
The first episodes, which aired before I left, deal with how to prepare for a trip, covering spiritual and emotional readiness, motorcycle skills, motorcycle care and staying healthy on the road.
To make it as easy as possible for you to access, each episode will be available on You Tube and my website.
Podcast Episodes:
014: Ron Grace | Lost for a Reason

Ron Grace and Mark Levesque co-founded Lost for a Reason.org (LFAR)  as a way to say THANK YOU to the children and families on the Navajo reservation for the use of the land on which they ride, run and explore. It's a way to help children and families in need. They listen to the families and do their best to fill whatever needs they have from personal items to playgrounds.
LFAR has ONE real mission: To help children and families. Whether they are buying food for the food bank, supplies for school kids, playgrounds for kids to just be kids their ONE real mission can be accomplished with your help.
In this episode, Ron Grace talks about the concept  behind LFAR, how a chance meeting with a Navajo Police Officer ignited an idea, and how the movement has evolved.
---
013: Allan Karl | Navigating After Sudden Change

Allan Karl spent nearly three years riding around the world, alone on a motorcycle. Along the way and high in the Bolivian Andes he crashed and crushed his leg. But this didn't stop him.
While he was devastated by this painful abrupt and potential end to his journey, he was able to see the opportunities it created.
In this podcast interview, he talks about how he worked through the aftermath of his change, and how you can use his lessons to deal constructively with the unexpected when it happens to you.
---
012: Tad Haas and Gaila Gutierrez | MotoStays Travel Network

Gaila Gutierrez and Tad Haas are two ordinary people who had big dreams of living a life out of the ordinary. They currently reside in the Seattle area and hope to begin planning their next big adventure.
Burned out on corporate America, routine and predictability, they decided to stop dreaming and set their adventurous souls adrift, embarking on a journey of a lifetime in 2012/2013. They quit their jobs, rented the house and took off on their motorcycles for 14 months. Their trek took them over 40K miles through 10 countries with countless escapades, adventures and unpredictable encounters.
That trip was the inspiration for the creation of MotoStays: a growing motorcycle community that promotes and provides access to home-sharing opportunities throughout the world. Their network provides a convenient alternative to camping and hotels by connecting you with local hosts along your route.
---
011: Karl Koop | Mennonite History and Culture

Karl Koop specializes in the history of Christianity and in contemporary theology, and is particularly interested in Anabaptist studies, Systematic Theology and topics related to religious unity.  He has written and co-edited several books and articles related to Anabaptist studies and the study of church doctrine. He is currently working on a project that examines the intersection between the sacred and the secular.
---
010: Ed McGaa (Eagle Man) | Part 2 – Ancestral Wisdom to Heal the Earth

009: Ed McGaa (Eagle Man) | Part 1 – Life and Spirit of a Sioux Warrior

Ed McGaa (Eagle Man) is a registered tribal member of the Oglala Sioux and was born on the Pine Ridge reservation. He received his Bachelor's degree from St. John's University and earned a law degree from the University of South Dakota. He has studied under Chief Eagle Feather and Chief Fool's Crow, both influential Sioux holy men. He is honored by the Sioux for having participated six times in the Sun Dance ceremony. He also served as a fighter pilot in the Marine Corps in Vietnam, flying 110 combat missions in F-4 Phantoms, receiving 8 air medals and 2 Crosses of Gallantry, and was recommended for a Distinguished Flying Cross. He's the author of at least ten books on Indian History and spirituality, including Crazy Horse and Chief Red Cloud, a history of the Sioux and its warriors, Nature's Way – Native wisdom for living in balance with the earth and American Spirituality.
---
008: Jeremy Kroeker | Journeys of Fear and Faith

Jeremy Kroeker has traveled to nearly 30 countries with his motorcycle and done at least one outrageously stupid thing in every one.
One October, he rode from Canada to Panama in an attempt to flee the pain of a broken relationship. Motorcycle Therapy – A Canadian Adventure in Central America tells his story of personal discovery, friendship and reconciliation that occurs along the way.
He has evaded police in Egypt, tasted teargas in Israel, scrambled through minefields in Bosnia and Lebanon, and wrangled a venomous snake in Austria. One time he got a sliver in El Salvador.
More recently, Kroeker rode from Germany through the Middle East into Iran, and finally through North Africa before returning to Europe. That trip provides the foundation for his newest book, Through Dust and Darkness — A Motorcycle Journey of Fear and Faith in the Middle East.
---
007: Liz Jansen | Interviewed by Judy Willems About Liz

The Wheels to Wisdom podcast follows an incredible quest that Liz Jansen has embarked on. It seemed fitting, on this her first week on the road, that we take a step back and get a good snapshot into Liz's life and get to know, and maybe understand her perspective and what inspires her.
In this episode, Liz Jansen's cousin Judy Willems interviews her about her family, background, early influences, the road that's led her to this point in her life, and where she's going next.
---
006: Michele Carter & Masoomeh | Skin Care for Moto Travel

Michele Carter was hooked on motorcycles the first time she rode a dirt bike when she was 10 years old. You'll also find her out on hiking trails, ski slopes and just about everywhere else in between she can explore. The concept behind Adventuress started during a motorcycle trip. Being outside for extensive periods of time, prompted Michele to think a little bit differently about how your skin behaves because of that exposure. Thus Adventuress was created to specialize in skin care products for women who love an active lifestyle. With Michele is Masoomeh, a world-traveling biochemist who has been instrumental in the development of Adventuress products. She's got more than 20 years experience developing technologies for brands like L'Oreal, Estee Lauder and Proctor and Gamble, to name a few.
Michele and Masoomeh talk about the skin care hazards you're exposed to on the road, and how to protect against them – naturally.
---
005: Grant Johnson | Preparing Your Motorcycle for Travel

Don't get overstressed about travel or what may come up. You'll figure it out. You won't have any problems that are insurmountable. People are people everywhere and want to live a good life. Be open to meeting people. To possibilities. That's what it's all about.
That's the advice from Grant Johnson, who along with his wife Susan, founded Horizons Unlimited in 1997. Together they've traveled to more than 50 countries, and they're not done yet.
Grant tells us that it's no different preparing your bike for 3 days or a year. He'll talk about how to get the motorcycle that's right for you, how to decide which accessories to take and what contingencies to pack.
---
004: Alisa Clickenger | Emotional Preparation for Solo Travel

Alisa Clickenger turned 40 in 2006, and wanted to be not who she was. Looking for answers, she walked the 750 Camino de Santiago pilgrimage across Spain. She'd tried to negotiate 5 weeks off work but ended up n to returning to her former career.
Alisa thought transformation was to do this one thing and then go back to her life, back to her job, but that's not the way it worked out. Looking back, she sees it as a good thing, even though it cast her into a lot of years of searching, trying to figure out who she was without all those exterior definitions. That search has taken her all over the world, taking her inward through outward journeys.
---

Kevin Hagerty is a lifelong motorcyclist and a professional guide for MotoQuest Tours in Peru & Alaska. He promotes MotoQuest from his home base in California, and works in Alaska during the summers.
He says if you're competent riding at home, you're competent riding anywhere. Get out there and see the world. It's not as big, bad and intimidating as politicians and the media would have you believe. You can't come back from the experience and think about how terrible your circumstances are. You can't come back unchanged.
---

Spend a long day riding a motorcycle without preparing properly and you're likely to end up with neck, shoulder and back pain. Assuming a proper riding position, staying nourished and hydrated, taking rest breaks and deep breathing can prevent that and have you arriving at your destination pain free.
Take a few minutes before you get on your bike to warm up a bit and stretch out. Take a few deep breaths before starting again after a break. It gets rid of road buzz and that "stupid" feeling. Based on her yoga expertise and her own riding experience, Ana's got exercises that can be done before, during and after riding.

A daily practice is like maintenance wherever you are on your journey. The Sadhana practices give us a daily diet for the evolving soul. Choose to take the actions that will evolve your soul. Be brave enough to do something to evolve yourself.
How we go around the twisties on our motorcycle sets us up for what's ahead. How we go through them and hold them inside of us, totally dictates what comes after that. The same principles apply throughout the rest of our life.