10 Tips for Being in the Flow Through (Life's) Storms
by Liz Jansen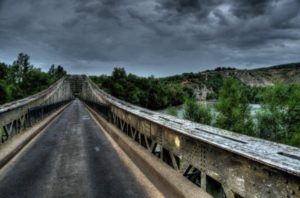 This week I had the unenviable experience of riding through two separate, large storm systems, one on the fringe of a hurricane, as I rode east across the southern U.S.
It wasn't my preferred manner of travel, or what I'd planned, but life has a way of overriding the best laid plans. In the end, I was trying to arrive at my friends' place before a hurricane tore through the state.
The storm that enveloped me for 400 miles/640 km across Central Texas brought wind and rain. There was no time for introspection or enjoying the scenery. It was only in retrospect lessons to weather life's storms—like relationships ending, financial woes, illness, and job loss—emerged.
10 Tips for Being in the Flow Through (Life's) Storms
Be alert to impending change. A storm usually lets you know it's on its way and gives you time to prepare. That gives you more options than when you feel blindsided. I could have waited a few days and taken a chance with the weather or cancelled my visit. I weighed the pros, cons, and risks, and decided to go for it. Once you're committed, there's no turning back.
Call on your skills. Whatever it is you're dealing with, you'll have resources to help you. I have tons of riding experience and moderate riding skills. This was not my first stormy ride, but even when you know what to expect, the reality is unpredictable.
Keep things in perspective. At one point when I'd pulled off to gas up Trudy, I could observe traffic plowing by on the highway. The mist thrown up by vehicles only rose a few feet off the pavement, right where I was riding, but above that it was relatively clear. When we're in the thick of a storm, it feels all-encompassing and everlasting, but it may resolve sooner than we think.
Avoid getting caught up in other people's turmoil. They too are navigating the storm they best they can and you have no control over their choices. The steady barrage of semis, added wind turbulence and kicked up a heavy mist. While I couldn't avoid them, I learned how to position myself around the various profiles to cut the buffeting.
Avoid getting bogged down. The safest speed for me was slightly faster than most trucks. That minimized the number passing me and put me in a better position of control. Falling into a victim role gives away our power and with it our ability to deal with change.
Watch for help. A stranger at a travel plaza, a self-professed weather buff, came over to review the weather radar with me. Together we strategized how best for me to get through the next four hours of travel and stay in the lightest area of the storm.
Respect and consider the needs of others. Everyone we share the literal or metaphoric road with is weathering their own storm. They may not be on a motorcycle but they're experiencing it in their own way and carrying their own loads.
Look after yourself. It's important at all times but even more so during upheavals. I took more frequent breaks, and stayed nourished and hydrated. Drying off was out of the question.
Reassure your fear. The most ridiculous thoughts pop up and try to scare you off your path. What if the bike slid out from under me? What if I lost control in the wind (it wasn't THAT bad), or skidded off the road? I'd ask myself why that would happen. My tires had lots of tread, I'd checked the air pressure that morning, and my load was balanced and well-positioned. I'd increased my buffer zone and the situation wasn't beyond my skill level. I couldn't let the "what-ifs" take hold or I would crash.
Trust—your self and your Higher Power. I knew I was guided and cared for. I had the skills, a trusty motorcycle, and could navigate the weather. It wasn't comfortable, it wasn't easy, and it tested my abilities to stay focused. As soon as I surrendered to that trust, I experienced serenity, a sense of being in the flow of life, (and traffic) even in the midst of the storm.
Storms help us grow. We don't chose them and can't control them but when they arrive, we must deal with them. How we weather one, determines how prepared we are for the next.
---
Photo on VisualHunt