Women and Motorcycles: Alisa Clickenger Speaks
Women Riders Speak is an interview series about women and motorcycles.  Through their stories, they illustrate the transformative role motorcycling has played in their life.  In this interview, Alisa Clickenger, of Idaho Falls, Idaho, reveals her fascinating entry into riding – and how it's carried her around the western hemisphere!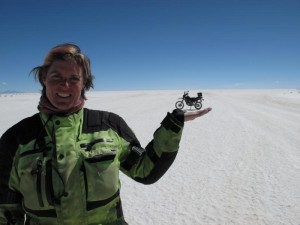 What prompted you to get into motorcycling?
I was going through a painful divorce, and one night I had a dream in which I sped away on a motorcycle in order to escape the bad guy and save my life. When I woke up, in my hearts I knew I had to learn to ride. The first person I saw in a leather jacket I asked how to get started riding a motorcycle, and he suggested the MSF course, so that's where I started. That was sixteen years ago, right before I turned thirty.
What was your biggest challenge when you were learning to ride?
Myself. Or I guess getting over my fear. I had a Father that scared the dickens out of me on a small dirt bike when I was very young, and a Mom that taught me growing up that motorcycles were evil. I couldn't understand why I was so compelled to start riding when it was so against my upbringing and core values. But the first time I felt the wind in my hair, and the sense of accomplishment of getting over my fear, well, that was terrific. And then I started noticing that confidence and that can-do attitude carrying over to other areas of my life. Now I love motorcycling mind, body, heart and soul.
Where have you travelled on your motorcycle?
All over! I started with short trips aroundNew England, then started traveling cross-continent mostly by myself because nobody seemed to want to travel as much as I did. I've ridden fromViennato Gibraltar in Europe, and all overItaly,Sicilyand theAeolian Islands. Plus I've ridden all overFrance,SwitzerlandandGermanyby myself. Three years ago I rode the Trans-America Trail (crossing America East to West on all dirt roads and tracks) and then the Continental Divide Ride (crossing America North to South on dirt). That was about 15,000 miles of unpaved and paved travel in one summer. It was a fantastic way to see theUnited States. 2009 -2010 I spent seven months on the road solo riding from my home in Connecticut all the way to Argentina. And yesterday I just got back from 4,000 dirt miles riding around the empty spaces in the American West.
What impresses you most about another woman rider?
I see her as a Ground breaker. Rule breaker. Someone who follows her heart, and lives her passion. I see her as a person that takes control, one who takes a bold step forward. I envy her, and then I realize I have a piece of her inside myself as well.
What is your greatest joy from riding?
I truly believe that I am a better person when I am riding and seeing the world from the two-wheeled perspective. Motorcycling forces me to live in the NOW—it's a technical challenge and I need to be "present". There's no worry about anything other than what I am doing in that moment, and for me that's a form of freedom in and of itself. I'm open and available—and vulnerable—literally, in a way that I don't allow myself to be in any other aspect of my life.
How do you look back on yourself as a beginner rider now?
I laugh. Because of my high tolerance for adventure and budget travel, and years traveling solo, I'm often seen as a die-hard motorcycle chick (especially since I no longer own a car). I'm an advocate of training and try to do one motorcycle rider training every year, so I'm developing some real skills now. But the truth is I am a clumsy person, and it's a challenge for me to have mastery over machine and to be a good rider. I remember being newly fledged from the MSF class, shiny new license in hand, and I would not accelerate over 35 mph on the highway. I was terrified. Cornering or leaning the bike? Forget it. Yet the feeling of freedom, the sense of accomplishment, and the unique perspective motorcycling has given me on life make me feel invincible. Perhaps that dream I had in which a motorcycle saved my life really has come true.
Read more about Alisa and her adventures on her personal blog.