Announcing Crash Landing Launch & Welcoming the New!
by Liz Jansen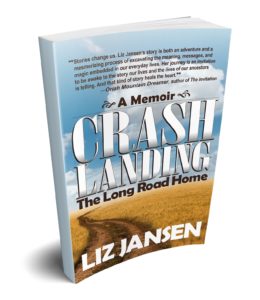 This week's post comes to you from the Horizons Unlimited travelers' event in Mariposa, California. I've been awed by the ever-changing and stupendous natural beauty as I've traveled across the country. It's the perfect way to cap the first leg of a remarkable road trip across the country—gathering with friends old and new, and sharing camaraderie, stories, and more stories with like-minded others!
Even more monumental, is the news that Crash Landing will be published and available on December 6!! You'll be hearing more about it in the coming weeks, but for now, I'd like to share a few blurbs, which will give you a glimpse into what its pages tell.
"Stories change us. Liz Jansen's story is both an adventure and a mesmerizing process of excavating the meaning, messages, and magic embedded in our everyday lives. Her journey is an invitation to be awake to the story our lives and the lives of our ancestors is telling. And that kind of story heals the heart." ~ Oriah Mountain Dreamer, author of The Invitation
"Liz Jansen brings a rich vitality to several generations of ordinary people who become extraordinary through her painstaking research and beautiful writing. The Ancestor Trail is a journey with a difference: part road trip, part spiritual exploration, and part self-discovery, it answers questions that lie within all of us. I'm so glad she was able to overcome its many challenges to close the circle and tell this story." Mark Richardson, author of Zen and Now, editor of Canada Moto Guide 
"Warning! Crash Landing is an emotional tour-de-force that may drive you to explore your own Ancestral Trail. BYO vehicle, baggage, and spirit guides! Jansen's meticulously-researched historical account of her Mennonite grandparents' exodus from Bolshevik Russia to the farmlands of Canada is a captivating journey through history and its effect on generations to come. Crash Landing demonstrates the power, drive, and generosity of the traveler and those she encounters to pass through any obstacles on a healing journey." Carla King, author of American Borders
I intended to be here in Mariposa four years ago, on my way to Central and South America. As you know, life changed and my plans evaporated. Writing Crash Landing is done. Being here now is symbolic of the completion of an amazing cycle and the beginning of something new. I can't think of a better preparation for releasing my book and accepting whatever comes next than to be on this road trip.
More to come about the launch—and the book—in the coming weeks!