Women and Motorcycles: Birgit Soyka Speaks
Women Riders Speak is an interview series about women and motorcycles. Through their stories, they illustrate the transformative role motorcycling has played in their life. In this interview, Birgit Soyka of San Francisco,CA, reflects on how at 51, after a riding gap of sixteen years,  she reconnected with her youthful spirit.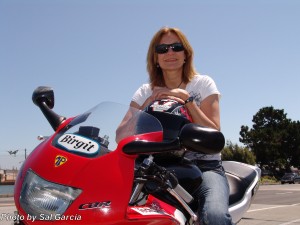 What prompted you to get into motorcycling? 
There was never a real conscious beginning in my journey of motorcycling. It was always there. My father had an old moped and took me for many rides when I was just three years old.  He planted the motorcycle bug in me although this passion was hidden until I turned fifteen and got my own moped. There were no questions or doubts. My parents supported my free spirit and a bike was the facilitator to carry my spirit to all the places I wanted to go. I was digging around with little mopeds in my teenage years and in 1978 when I turned eighteen I bought a Honda CB 750. Only then did I feel free. Nobody was able to keep me still.
I developed into a road warrior obsessed with speed, adventure and unlimited freedom. I was never able to go slow and so it was inevitable that I became a racer. At first I was traveling extensively on my bike through Europe, but then I embraced competitive motorcycle road racing. I was one of the first female road racers in Germany and was fairly successful in racing with the guys. There was no such thing like women's divisions. It was me against an awful lot of testosterone! After a bad crash on the racetrack in Germany I decided to quit racing and move on with my life.  In 1985, I sold everything and took off for the biggest adventure ever — coming to America. I still couldn't let the racing go and in 1986,  won the Southern Californian Club championship.
In 1988 life changed with a marriage and business career.  My priorities shifted and in 1995, I had to sell my bike before moving to Mexico.  In 2007  I was burned out. I didn't like the person I had become and decided to reconnect with my youthful spirit.  Now at fifty-one, I just bought another bike to continue where I left off in 1995
What was your biggest challenge when you were learning to ride?
There were no rider courses but I intuitively knew how to ride. There was however a learning curve from going fairly fast on the streets to go really fast on the track.
Motorcycles opened the doors for me to live life to the fullest, to feel the "Wild Air", to experience the world on two wheels and to express myself the way I really was. There was no mask, there were no lies. I lived my passion with all my energy and I was proud of it.
Where have you traveled on your motorcycle?
Coming from Germany,  Europe was my playground for travels. I pretty much crossed Europe several times from North to South and East to West on a bike. Later I had the opportunity to cross the United States on a Harley-Davidson.
What impresses you most about another woman rider?
I'm still a racing chick in my heart. I admire female motorcycle racers. Regardless if they're road racing or motocrossing, I like that women don't limit themselves. I also admire female world travelers. Someday I will take off on a bike again to seek modern adventure equipped with fantastic equipment, a smart phone and GPS.
What is your greatest joy from riding?
The joy of riding complements my philosophy of life.  I spent so many hours on a bike, it is second nature and even now returning to the bike scene after sixteen years of absence is like I never took a break. It still fuels me with this inherent feeling of freedom and happiness.
Read more about Birgit and her adventures on her personal website.