First Motorcycle Ride—Some Things Never Get Old
by Liz Jansen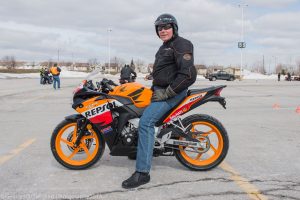 In a month, I'll be celebrating another birthday. The calendar doesn't stop and every year that age number increases by one. In fact those 'ones' seem to come around faster than before. But there's one thing that never gets old—the first motorcycle ride of the season. Even if it is on a 125cc Honda CBR.
Last weekend was the first teaching weekend of the year at Humber College and I was lucky enough to be working. The temperature was barely above freezing but that didn't matter. The sun was shining, I was dressed for it, and working with a great team of instructors.
The first order of instructor business is to shuttle the fleet of motorcycles from their storage container to the parking lot where we teach. It's essential to ride them a bit to make sure they're fit for students. Someone has to do it!
Back at home, Trudy, my Triumph Tiger is still sitting under cover in the garage. She's been there since the end of November, attached to the trickle charger and patiently waiting for the right day to emerge. I've checked her over, lubed the chain, and even taken her off the center stand. All she needs is air in the tires and we're ready to go. Our first trip will also be to a parking lot where I'll practice slow speed control, turns, and emergency maneuvers.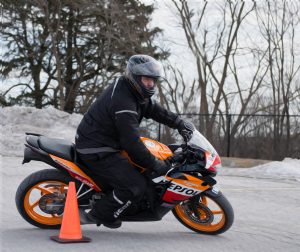 Winter is a time for hibernation and although we know what an incredible experience it is to ride, like our batteries, that memory dulls just a little when we're not charging it.
This is my 48th year of riding. I've ridden hundreds of thousands of miles. Every year there's a first ride of the season and without exception, the feeling catches me off guard. The ride on the CBR brought it all back to life again and awakened those feelings. That energy. I'm so grateful motorcycling has been part of my life for so many years and we're still going strong.
As soon as the snow forecast for tomorrow has passed, it will be time bring Trudy out of the garage and go for another first motorcycle ride of the season. There's nothing like it.
Although I didn't think to take a photo of that CBR ride, my wonderful colleagues came to the rescue. Thanks to George Reichert for opening his photo vault and Mark Faulkner and Al Dzieciol for modeling.