Montana to Indiana – The Journey Continues
This is the last missive from the road – for now. I don't at all feel ready to come in from the road – it's been such an extraordinary time. Yet my 6 weeks is up and I've got some catching up to do.  It's been an experiment which I'll evaluate and report back on.
Since Tuesday, I've been focused only on getting back to Ontario the most direct way possible. I got on the I-90 in Missoula and will stay on it until I have to cut off for the bridge across the Niagara River to Canada.
Although once again, one never knows what Spirit has planned for the day. Last night after an exhausting ride through 30 miles of Chicago construction and what seemed like another 30 miles of traffic, I came out to my bike after picking up a few groceries and a young man was lurking around, checking out my bike. Not an unusual occurrence, but this kind man discovered a nail embedded in the the rear tire I just had installed in Carson City.
So tomorrow morning, the first order of business is to take my bike into the shop and have it looked at. Hopefully it's salvageable; it's not leaking air right now.
One of the highlights of this week's ride was at a South Dakota rest stop when this woman asking to have her picture taken so she could send it to her dad. She was attracted by the loaded bike – and it brought back memories of a trip he'd taken her on with his 350 Honda when she was 12.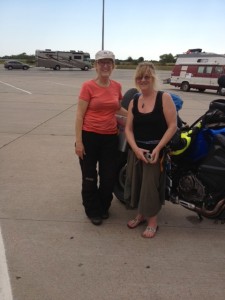 Wednesday was a 1,100 km/700 mile ride, mostly in a straight line.  Here's a picture to the south – of South Dakota and that endless big blue sky! Sure it was a long ride but I know I won't be back there for a while so I relished every minute.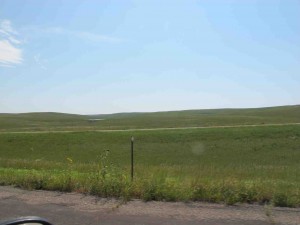 Over my left shoulder, the sky looked a little different.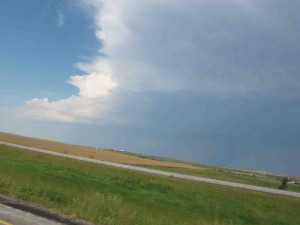 That black sky was enveloping me but I thought i'd be able to out-run it. And that's what I did. Right down the middle of the road between the black north and the blue south. Somehow I managed to keep the blue sky with me the entire day. What a high!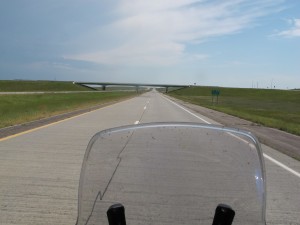 Last night was at a quiet treed campground near South Bend Indiana – probably the last night outdoors for a while.  I probably won't pitch a tent in my yard at home.
It's been an incredible time and will take a while to absorb. Although the next part of my journey will be more stationary – at least for a while – it will be no less adventuresome and fulfilling.  I'll keep you posted!