Measuring Success
Measuring Success – One Mile at a Time
Have you ever dreamt of doing something but written it off before you even start because it seems too daunting? A reality check combined with persistence and taking things one step at a time can bring things into focus.
Facing Challenge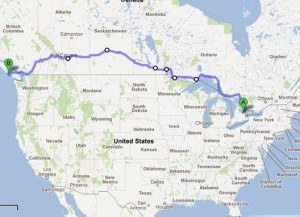 Forty-nine years old, newly single and even more recently unemployed, I embarked on a two-month solo motorcycle odyssey traversing central North America. Sure it was a big adventure and I had done some loose planning, but beyond that, the road was an open book.
I planned to spend half my time in Canada, the balance in the US. Just to get across Canada was 4,784 kilometers (2,973 miles). Focusing on the distance and worrying about crossing the plains, traveling through mountains, navigating through strange cities – and all that time alone, could have been deterrents. It never occurred to me that it was undoable.
Strategies that Work
Whether you're planning a project or trying to manage a long list of priorities, these 3 simple steps work. Simple, but not easy.
Confirm Reality.
I knew I was looking at a window of opportunity that might not come around again soon. I could comfortably be away two months before the weather got risky. I had a new, reliable motorcycle and good riding skills. I was healthy and resourceful. I was going to be traveling in territory where I could understand the language. All I had to do every day was go for a ride. And I could always turn around and come back. Not.
Consider Resources.
I had to be ready for heat, cold, wind, sun and rain. I needed a few basic tools, a map, cell phone and finances. I'd need some routine maintenance along the way. There were people and sights I wanted to see and they formed the backbone of my route.
Having ridden for many years, although never solo and never for this time or distance, I knew that situations could arise that I'd have to deal with. But barring significant illness or injury, I couldn't think of anything I couldn't handle.
Go.
The hardest part was the first step. In this case, it was turning the key in the ignition. As soon as the bike started and I was heading out the driveway, I knew I was on my way. Feelings of freedom, euphoria and peace melded into an indescribable emotion.
Once everything is in perspective, prepared and moving towards your goal, note even small successes. They tend to get ignored, but they're what the big success is built on. In the case of my trip, it was going for a ride each day and accepting what the day brought. Before I knew it, I'd covered 3,000 miles and dipping my toes in the Pacific Ocean.