Motorcycle Memories and an Unforgettable Dad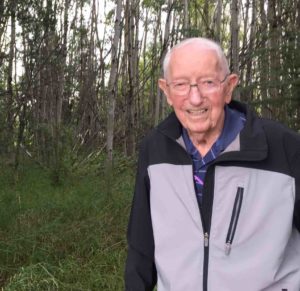 Dad was well into his eighties when I stopped at the farm for an overnight visit on my way to spend American Thanksgiving with friends in Georgia. Having ridden two hours, I could make it down in two days, an important consideration in November when darkness fell early. Little did I know the motorcycle memories would begin before I crossed the border.
Even with an early morning departure timing was tight if I wanted to avoid riding through the mountains of West Virginia in the dark. It was cold, dipping below freezing overnight, and I'd needed my heated gear on the two-hour ride down.
The next morning my bike wouldn't start. The extra draw and the frigid temperatures pushed the battery past its end.
I grew up on my parents' fruit farm and worked as soon as I could, always getting paid the going rate. They raised me to be self-sufficient, hard-working, and resilient. They looked after our spiritual wellbeing from the confines of strict fundamentalist beliefs. But the Bible didn't forbid girls from riding motorcycles. Neither of my parents blinked an eye when I hopped on my brother's Honda and rode it around the farm.
They stayed on the farm until they were eighty-five, renting it to a young farmer in their later years. The barn was still Dad's domain and each piece of farm equipment had its place. He parked his brown 1991 Ford F-150 in front of the cold-storage door, but not blocking it. Two blue Ford tractors fit on either side. The trailer with his fishing boat sheltered in the latest addition. It faced the door, ready to be hitched up and taken out whenever he could find a fishing buddy, and even when he couldn't. The John Deere riding lawn mower tucked in beside it. He'd always have a spot cleared and swept out to accommodate my motorcycle, a Yamaha FZ1.
Dad came out to see me off and close up the barn behind me. He still stood over six feet tall. The flaps of his red and black checkered wool cap covered his ears. He was bundled up with insulating layers under his red-plaid flannel-lined faded green coveralls. Kodiak work boots grounded him.
The long, paved, and flat driveway exited onto a paved road at the crest of a hill. If I could push my bike out there, I could use gravity to try and bump start it. He insisted on helping me push it down the lane, insisted on trying to bump start it there. We gave it a valliant attempt but we needed the grade. Even that wasn't enough. There wasn't even a sputter when I released the clutch at the bottom of the hill.
I coasted to the gravel shoulder past the bridge that crossed the creek, got off, and deliberated on what to do next. Glancing back up the hill, I took in a familiar coverall-clad figure trudging towards me. He wanted to see how he could help next and wondered if he should get the tractor and trailer. It's one of my favorite memories of Dad, always there to help, even when we were more concerned about helping him.
As motorcycle adventures go, two guys in a pickup and a landscaping trailer came over the hill. They stopped and asked how they could help. In the end, they loaded my bike on their trailer. Dad got the car and we followed them thirteen miles/twenty-one kilometers to Clare's Cycle. Clare's installed a new battery and I was back on the road a few hours later.
Dad's eyes welled with tears as we drove, taking in what he'd seen. The kindness of strangers bowled him over, even though it's exactly what he would have done. I had an indelible, enduring and endearing memory of my dad.
More than a decade has passed since then. He's been gone two-and-a-half years but the motorcycle memories of an unforgettable Dad live on. whenever I have occasion to ride up that hill, I still see him on that hill and give thanks. Happy Father's Day!
Related Story: Tribute to Dad on Father's Day